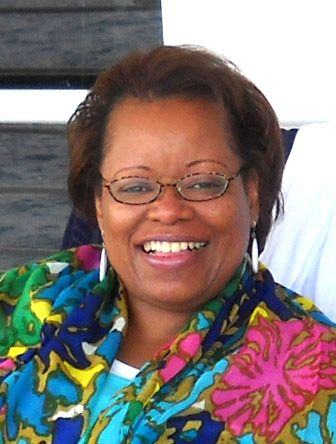 Sheila Brown
September 12, 1957 – February 3, 2021
Sheila Lynne Brown was born to Willie and Lillian Brown on September 12, 1957 in Houston, Texas, one of eight children. She grew up in a strong Christian faith family, sharing her belief in words and action. Sheila graduated from Jack Yates Sr. High School in 1976 with honors.
Sheila began working at Foley's Department store in Downtown Houston, December of 1977 in their toy department soon becoming a merchandise coordinator for their toy buying office. She worked in the toy and girls buying offices for over 25 years. While working at Foley's (now Macy's), Sheila formed life-long friendships with co-workers which she maintained until her death. She was a avid reader and bible scholar. Sheila had a life-long love for travel, frequently traveling with her sisters and close friends. She particularly enjoyed her yearly cruise vacations.
After a brief illness, Sheila passed peacefully into God's arms on February 3, 2021. Sheila was well loved by everyone who knew her and will forever be missed.
Preceding her in death are her parents, Willie and Lillian Brown, brothers Lawrence Brown and Mark Brown.
Sheila leaves to mourn her passing, her sisters Sandra Stegall, Diane Brown and Marsha Brown; brothers, Willie Brown and Dennis Brown; nephews, Maurice Shorter, Kwasi Brown, Mark Brown and John Stegall II; great nieces, Jasmine Brown and Aniya Shorter, great nephew, John Stegall III and a host of family and friends.
Visitation:
Thursday, February 11, 2021 at 12:30 PM
McCoy and Harrison Funeral Home, 4918 Martin Luther King Blvd., Houston, Texas 77021
Funeral Service:
Thursday, February 11, 2021 at 1:30 PM
McCoy and Harrison Funeral Home, 4918 Martin Luther King Blvd., Houston, Texas 77021
Interment:
Thursday, February 11, 2021 – Immediately following the funeral service
Houston Memorial Gardens Cemetery, 2426 Cullen Blvd., Pearland, Texas 77581
7 entries.
I met Shelia many years ago when she worked at Foley's with my cousin Carolyn Braziel, she was a very sweet person. Every time I saw her she had a smile on her face. She will be greatly missed by so many. I extend my deepest condolences to the entire family. Earth has no sorrows that heaven cannot heal.
Happy Valentine's Day, Sheila. You will be missed but your spirit lives on. Sincere condolences to her dear family and friends. Rest in Peace.
I worked with Sheila for 25 years at Foley's Dept Store Downtown, in the Buying Office, and became good friends, she always had a smile on her face.. We talked about everything from Politics, God Finances Life in General.......She was my Dear Friend She will be Missed!! REST IN HEAVEN!! You have Gained your Wings LOVE YOU ALWAYS!!!!
I had the pleasure of working with Sheila at Foley's for 19 years. We kept in touch through reunion lunches and through group messaging. She will be missed. Sheila was a good friend and always gracious. May Sheila rest in PEACE!
I didn't know Ms. Sheila personally, but I was close to her oldest sister, Sandra. They were a close knit family and loved each other dearly. God plucked his precious flower from His earthly garden and called her home from labor to rest. She is at peace. To her family, Stay strong and prayerful. God is still in control. All my love! God bless.
I had the wonderful pleasure of working with Sheila at Foley's for over 29 years. We became great friends outside of Foley's. We took many trips together and got together with other friends periodically. Sheila was a friend to everyone she met. Sheila you will be dearly missed by your family and your friends. My thoughts and prayers go out to her family.
Sheila and my aunt Roz Williams have been friends for over 25 years. I have known her since I was 8 years old. When I would go to the office with my aunt I would always make sure I stopped by to see and hug her. She was a class act. Every time I saw her she always had that infectious smile on her face. Sheila was very kind and loving and I thank God I had the pleasure of knowing her. My love, prayers, and condolences to her entire family. May God give you peace and comfort. God bless TyGer