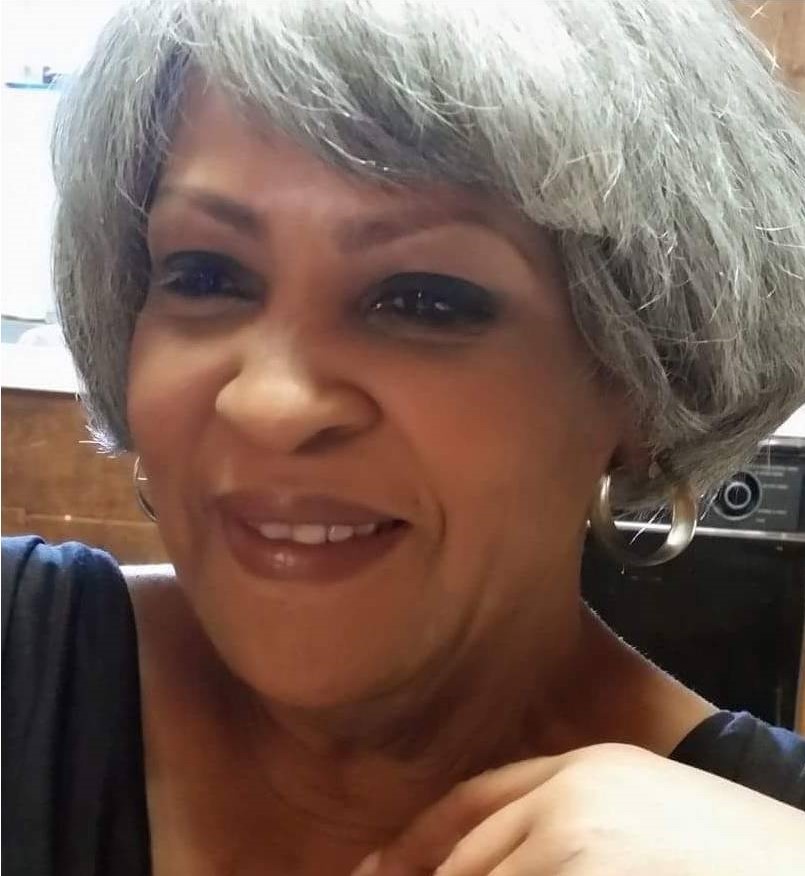 Maudie Jordan
February 6, 1947 – September 23, 2020
Viewing:
Wednesday, September 30, 2020 at 9:00 AM
McCoy and Harrison Funeral Home, 4918 Martin Luther King Blvd., Houston, Texas 77021
Funeral Service:
Wednesday, September 30, 2020 at 11:00 AM
McCoy and Harrison Funeral Home, 4918 Martin Luther King Blvd., Houston, Texas 77021
Interment:
Wednesday, September 30, 2020 – Immediately following the funeral service
Paradise North Cemetery, 10401 W. Montgomery Rd., Houston, Texas 77088
20 entries.
Maudie was always such a sweet person with a beautiful smile! Even when she faced health issues, she still smile and kept that jovial personality! She was a little older than I, but I knew her growing up in Jack and Jill of America, Inc. She was along with my late sister, Raye Lott Brown. She was also a very close friend to my cousin Ivalyn T. Patterson. May God bless and comfort her dear daughters, her brother, other family members and friends as she rests in the arms of our Lord. ✝️🌹❤️🙏🏼🙏🏼
My deepest condolences to Mrs. Jordan's daughters and family. Mrs. Jordan was one of the most kind and loving people that I have had the pleasure to have known. My heart is heavy, but I am not sad. She was always an angel to me.
I had the privilege of knowing and working with Maudie. We had some fun adventures and visits. I will always remember her as a very compassionate, giving, kind, loving, and strong woman. May Maudie rest in peace, and may her family and friends receive comfort, peace, and strength during this time of transition. Much love, Dorene
Ms Jordan you will be missed my love .... I been the best teachers since I been a kid and you teach my kids and my Nieces and nephews as well.. they always said you are the best and I already knew you were the bomb.com 2020 have been a rough year Sleep well beautiful say hey to my mama as well
Love to cousin Maude. We love you into eternity. For the laughs the smiles and the sense of family you provided. You have earned your place among the ancestors. Rest In Peace Patsy Hilliard, Asa Pearl and Hakim
I met this beautiful lady at her PCP office (where I work). She truly touch my heart with her warm spirit. I will miss the chats we would have along with her wonderful smile. You are an angel indeed. Rest in peace, you will always be remember. My condolences & prayers to the family.
Dear Aunt Maudie, I am devastated by your passing. You were always a lady, a giving person, and a joy to be around. Your legacy rests with Stephanie and Monique, and they are in good hands with family and friends. Will always miss you. Love, Ros
We are neighbors of Ms. Maudie (at 2507). We only knew her for a brief time. But in that time you could tell she was a nice lady. Very generous. We are so very sorry for your loss.
Monique and Stephaine, I am sending my condolence and my love. You had a beautiful mother inside and out..God picked a great one this time. Smile and know ALL IS WELL!!! Love you...Mo you know im here for you girl!!! Praying for you all strenght! Rest in God's arms Ms Maudie!
Maudie is my sweet, beautiful cousin and was one of my Aunt Gale's role models as a teen. I was blessed to be a flower girl in her beautiful wedding to Ed, and never forgot it. Praying for strength for their beautiful daughters.
I am lost for words. I just can't wrap my head around you leaving Maudie. I will keep the family in my prayers.
My deepest sympathies to the family. Maudie and I shared a BIRTHDAY. I loved that infectious smile and energy and that signature hair! Family my prayers are with you. Edna Lewis (Scott Elem)
I am deeply saddened to learn of your mother's death.She was one of the sweetest persons I have ever met. She was a wonderful teacher. She had a beautiful soul. God has accepted Maudie into his kingdom. May perpetual light shine upon her.
Ever since I was a little kid I remember Maudie's smile, kindness and sense of humor. As a child, I remember her joking with my dad when we would visit the Hilliard family in Houston and she would do the same with me when we talked in recent years. Maudie was special and will be missed. Love from me and the entire Webster family.
Sending my deepest condolences to your Family. She will be forever missed. Love Y'all Cynthia Harris
I'm not sure what I'll miss most, your wonderful smile, your warm dinner rolls or just you. Rest in peace. Love you.
She will forever be remembered and adored. She was the epitome of a "Jewel". Her laughter would fill the room and she would laugh so hard till she cried. And let me not even get started on her cooking. Love you and praying for you, Stephanie and Monique. ❤️, Melanie
We are so sorry for your loss. We will miss her beautiful smile and sense of humor. May she rest in peace.
Mother, I love you... I miss you so much. Please keep resting ...