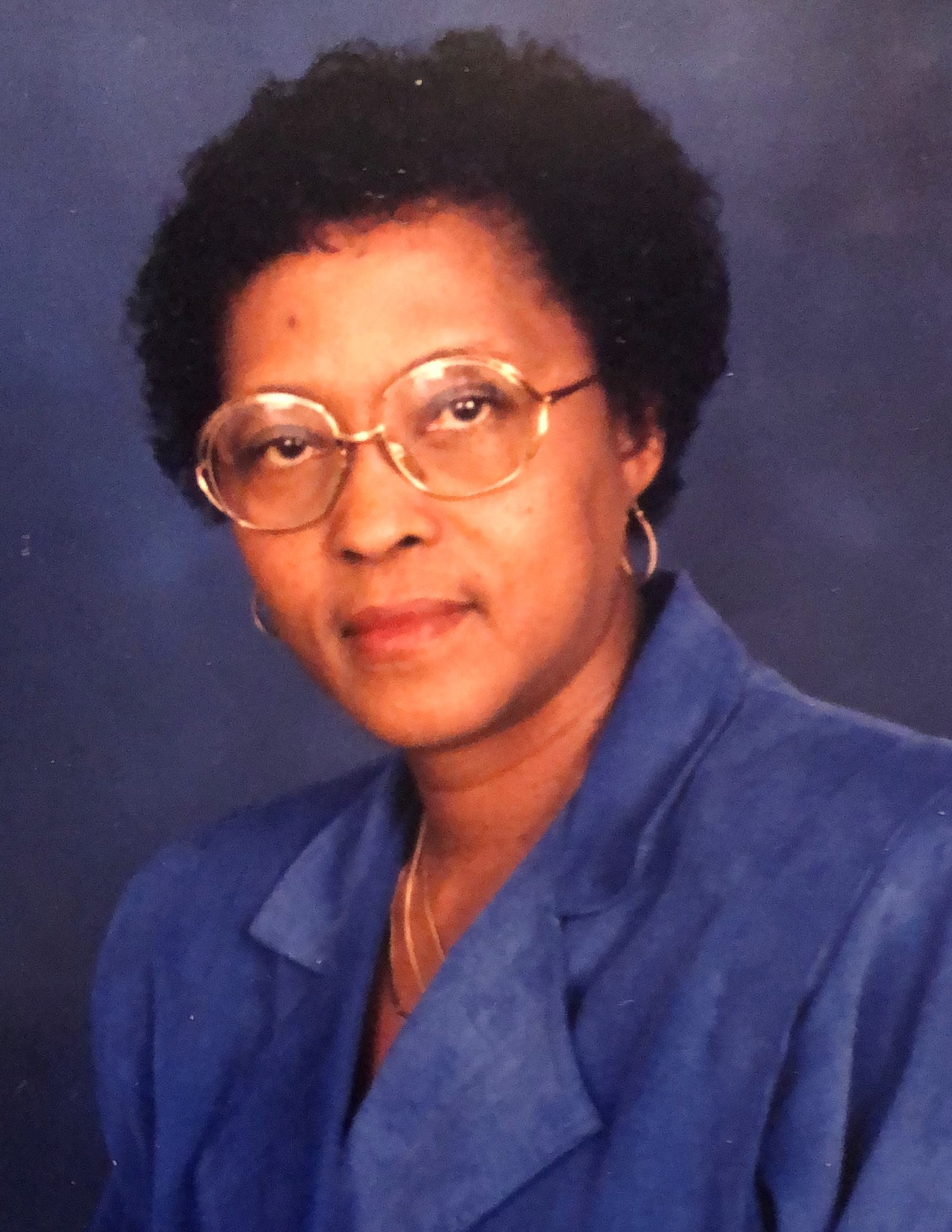 Marcelle Thomas
September 23, 1939 – July 18, 2020
(Click the image to view the full program)

MARCELLE THOMAS 1939 – 2020
Marcelle Anne Browne Thomas, 80, born on September 23, 1939 on the island of St. Vincent and the Grenadines, passed away at her home on Saturday July 18, 2020 after a short illness. As a child, Marcelle acquired the nickname "Mab" from her father who used the initials MAB of her given name, Marcelle Anne Browne.
When she entered Girls' High School in St. Vincent, her friendliness and ready laugh allowed her to make friends easily. Many of those friendships have lasted to the time of her passing, names such as Lorna Joseph, Lucene Thorne, and Irene Derrick, would be friends who entered Marcelle's world and never left.  In High School she played games such as "rounders" or Bean Bag, netball (looks somewhat like Basketball).  During her teenage years, she loved to dance just like her Mother did, and attended the High School social dances and birthday parties of her best friends. After leaving High School, she attended a typing school and excelled at typing and shorthand in St. Vincent.
Upon leaving St. Vincent, she spent a few months in Aruba with her Mom, stepfather and brothers, Ulpian Ifor and Tyndol, before migrating to the United States.  When she arrived in the United States, it was not difficult for her to gain employment because she was able to type at a prodigious speed and was offered employment by various firms immediately upon taking their typing test. Marcelle eventually settled into a job with the Gulf Oil Corporation in New York City.  She remained with the company through its merger and was subsequently transferred to Philadelphia and ultimately Houston, Texas.  Marcelle made the decision to move to Texas even though it meant leaving behind close relationships and family who remained in the New York area.
She transitioned to the Credit Union after the frenetic period of merger activity of the Gulf Oil Company, it was while at the Credit Union that a gentleman by the name of Bobby Thomas came in and from all appearances it was love at first sight and after 2 years of courtship, he asked for her hand in marriage. Because the majority of her family and friends were in the New York, New Jersey area, they got married on September 30, 1989 in New Jersey.
Marcelle was an original member of the first female Mechanic Lodge in Houston, she was installed in 1994 in Southern Stars of Solomon's Cloister Lodge #18,Independent Order of Mechanics Friendly Society, Preston Unity, Inc.  a co-ed lodge at the time and later Stars of Ruth Lodge #26, when the female members were separated from the male.  Because of her friendly nature, caring and kindness, her easy laughter and smile, she made many friends in the Lodge.  She was a member of the Abiding Faith Baptist Church where she served as an usher for many years.
Marcelle's authenticity made easy and lasting friendships throughout her life.  Her true love for her husband, Bobby was an example of a caring and committed relationship. As well with other relationships that she developed while in Houston, especially with Marguerite (Gloria) Rose who she affectionately called "Maggie."
Marcelle was preceded in death by her parents, Mildred Baynes and Maurice Browne, her brother Ifor Baynes and stepson Troy Thomas. She leaves to cherish her memory her devoted husband, Bobby Thomas, brothers Basil Browne (Stephanie), Stanley Browne (Jean), Tyndol Baynes (Irmgard), Bert Browne, Lennie Browne, Trevor Browne, and Mikey Browne; stepson Eric Thomas (Angelia) and stepdaughter Corliss Thomas; Cousins Elliot Cambridge (Hermina), Yvonne Paynter (Arnott), Annette Snagg, Claudia Innis (Frank), the Neverson family, Nieces –  Desiree Browne, Michele Culver (Michael), Morgan Browne, Nephews – Graham Browne, Matai Baynes and Harlon Cambridge, step grandchildren – Troy Jr., Trent, Lee Eric,  Best friend – Marguerite Rose, and a host of other loving cousins, great niece and nephew, adopted nieces and nephews, faithful friends and the Sisters of Stars of Ruth Lodge #26.
6 entries.
I will miss you beautiful smile and personality. I know you couldn't stay here forever, I take comfort in knowing that you are whole again! You got your wings, fly high! ❤️
Mr. Thomas & Family, I know words can't take away the hurt you're feeling, but I want you to know how much I care. May you take comfort in knowing there is one more angel above us. Sending you love and strength in this time of loss.
Bobby and Family, May it be your consolation to find in God above strength in His Love. May you find comfort in the memory of Marcell. God of peace and love be with you all. Noel & Rita (Violet) Clarke
In your hands, O Lord we humbly entrust our Sister Marcell Thomas. In this life you embrace her with your tender love; We bid her eternal rest. The old order has passed away: Welcome her into paradise, where there will be no sorrow, no weeping or pain, but fullness of peace and joy with your Son and Holy Spirit for ever and ever. Sister Violet Clark, PWM Chaplin, SOR
Dear Marcelle, sister, wife, mother, sister-in-law, mother-in-law, aunt, cousin, great aunt, Your absence has left us a void that will remain forever. We celebrate the joy, caring and kindness; the easy laughter, happy smile and love you shared with us all. You were the Griot, the glue that kept the family together bounded by meaningful traditions and love. Your authenticity made easy and lasting friendships throughout your life which you valued dearly. Forever friendship no matter what. Your true love, Bobby was an example of a caring and committed relationship for us all. The vision of Margaret singing your and mom's favorite hymn, while holding your hand as you peacefully fell asleep brings comfort to us all and is indelibly imprinted in our minds. We thank her for her valued friendship, love, caring and loyalty. Sleep well MAB, Love Stephanie, Desiree and BAGS (Basil)
We will remember our sister Marcelle forever. We miss her smile and her positive views on live. This positivity lifted up many. We also observed this positive mindset when her health threw her curveballs. We will forever remember Marcelle's smile and love for us. Tyndol and Irmgard
Viewing:
Thursday, August 6, 2020 at 11:00 AM
McCoy and Harrison Funeral Home, 4918 Martin Luther King Blvd., Houston, Texas 77021
Funeral Service:
Thursday, August 6, 2020 at 12:00 PM (Central Standard Time)
McCoy and Harrison Funeral Home, 4918 Martin Luther King Blvd., Houston, Texas 77021
Interment:
Thursday, August 6, 2020 at 2:15 PM
Houston National Cemetery, 10410 Veterans Memorial Dr. Houston, Texas 77038
Zoom Streaming:
https://us02web.zoom.us/j/84034855079?pwd=NHI0emR1SCtpbGhiblJGVmJSK1R3UT09
Meeting ID: 840 3485 5079
Passcode: Psalm133