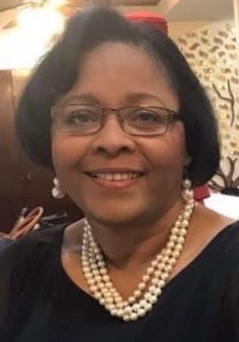 Betty Jarmon
December 12, 1951 – September 29, 2022
IN LOVING MEMORY
Betty Valerie Gibbs Jarmon went home to be with the Lord on Thursday, September 29, 2022. She was reunited with her mother, Lillian Virginia Maiden, her father, Ruben Gibbs, Jr, her older brothers John Henry Gibbs and Donald Ray Gibbs, stepson, Broderick Jarmon, and her grandsons Darrian (DJ) McClintock, Jr. and Dennis Giggets.
Betty's love and dedication to the Lord came when she dedicated her life to Christ at an early age. She was baptized and became a member of the Macedonia Baptist Church in Keithville, Louisiana under the leadership of the late Pastor Timothy Lewis, Sr. Betty attended Mooretown Elementary School and later graduated from Bethune Jr.-Sr. High School in 1969. She moved to Houston, TX after graduating high school to attend Texas Southern University and made Houston her permanent home. After marrying Bobby Deckard, she began her family and continued to build her career as a Division Oil Analyst. She later transitioned to a Legal Secretary working with Congresswoman Sheila Jackson Lee, as well as Ogletree, Deakins, Nash, Smoak & Stewart, Littler & Mendelson, P.C., and Dewey Ballantine over her 35 year career. In the 1980's Betty met and married Raymond J. Jarmon, Jr. and they were married in 1983.
In 1995, Betty and her family joined Antioch Missionary Baptist Church in Houston, TX under the leadership of Pastor Nathan Johnson. She served as a member of various ministries with the church, the Women's Ministry, Kitchen Ministry, Bereavement and Outreach Ministry, Publishing Ministry, the Priscilla Circle, Usher board, and dedicated Deaconess. She was also strongly involved in Christian education efforts in the church. Her passion for serving the Lord and spreading his word brought her immense joy.
Betty had a green thumb, she loved reading, and sending daily devotionals to her family and friends to keep them grounded in God's word. She was a dedicated wife, mother, grandmother, aunt, sister, and friend.
To cherish her memories, she leaves her husband of 39 years, Raymond Jarmon, Jr., daughters, Kimberly McClintock (Darrian, Sr.), Frances Michelle Jarmon, stepchildren, Cecile Brown (Fletcher), Felicia Giggetts (Dennis), Reginald Jarmon, and Rae'chelle Jarmon, fourteen (14) grandchildren: Asia McClintock, Jarrett McClintock, Madison McClintock, Cherithia Jarmon, Brodreana Jarmon, Joshua Simmons, Justin Simmons, Lawrence Jarmon Exum, Calvin Jarmon, Reginald Jarmon, Jr., La Donna Jarmon, Nia Jarmon, twelve (12) great-grandchildren, her niece, Quendolyn Kimble, nephew, John Henry Gibbs II, her godson, Eddie Lamar Copeland, and God sisters, Rose Marie Brown (Tony) and Deborah Whitehead (Robin), as well as a host of cousins, aunts, uncles, and friends.
Visitation:
Saturday, October 8, 2022 at 10:00 AM
Antioch Missionary Baptist Church, 500 Clay St., Houston, Texas 77002
Funeral Service:
Saturday, October 8, 2022 at 11:00 AM
Antioch Missionary Baptist Church, 500 Clay St., Houston, Texas 77002
Interment:
Tuesday, October 11, 2022 at 10:45 AM
Houston National Cemetery, 10410 Veterans Memorial Dr., Houston, Texas 77038
8 entries.
To my lil cousins Kim and Michelle. And cousin in law Raymond. I want to tell you this' '"Earth has no sorry that heaven can not heal". Though your hearts are hurting now we can rest assured that Betty is no longer in pain. She is free from all earthly cares' and someday bye and bye we will join her there. God's blessing be with you all. Love you more than you know.
Betty will certainly be missed it was a inspiration to have known her. Thank GOD for her friendship. My prayers to the Jarmon family,
I can remember so many good times we had. I feel so sad. I know you've had a good Life and is resting in Gods arms. Til we meet again. Velta Fergins .. Bethune class of 69
From: Irene Sending my condolences and prayers. I'm going to miss my best friend & my sister. Raymond & fam stay strong. Keeping yll in my prayers. From: Erica With deepest sympathy to yll. Aunt Betty I'll miss you calling me. Uncle Raymond & fam I pray for comfort & peace during this difficult time. I love yll.
Deacon Jarmon, you and your families life has been made full by the love and many many happy moments that Sister Jarmon's Jesus gave her to make you complete and fill your cup so that your blessed Memory will keep her in your heart till you meet again. You ,oh servant of The Living God, I pray He will keep you and your family in perfect peace. With love, the Winkley.
Brother Jarmon, Michelle and family, my sincere condolences to you all. We pray for your comfort and this difficult time. May God grant you peace. Sis. Jarmon will be missed. May she rest in peace. Love Pat, Marcy and Paige.
Raymond and girls, We are lifting you in prayer as we remember the life and legacy of our dearly departed cousin. Love and blessings, Rickey, Jackie, Vickie, LaWanda, Ruben, VerShannon & spouses.
Sending our sincere condolences and love to Uncle Raymond, Kimberly, Michelle - the Jarmon & McClintock families, for the loss of your beloved wife, mother and grandmother, Aunt Betty. She is irreplaceable. Her immense love, generosity and spirited personality will be truly missed. May Almighty God comfort and bless you with His Peace during this difficult time. Our prayers are with you, M. Sherman