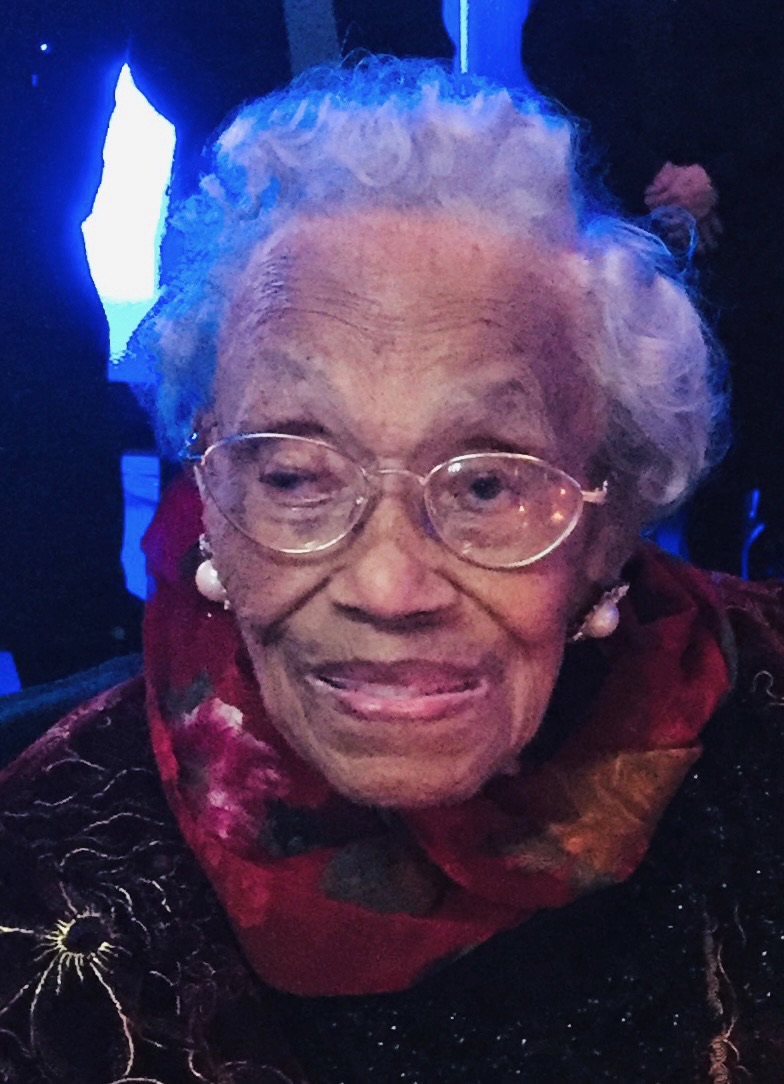 Beatrice Lehman Green
March 1, 1913 – November 9, 2021
Remembering a legend. . .
BEATRICE LEHMAN GREEN
Bless the Lord, O my soul, and all that is within me, bless his holy name! Psalm 103:1 (ESV)
Beatrice Lehman was born to James Lehman and Florence Johnson Lehman on March 1, 1913 in Mansura, Louisiana, the first of seven children to this union. Over the years, Beatrice was affectionately called Bea, Mama Bea, Aunt Bea, Cousin Bea, Nan Nan, Honey Bea, and Queen Bea by family and friends.
Bea grew up in a devout Lutheran family and was christened in Holy Baptism at St. Paul Lutheran Church, which was erected in 1899 on land donated by her great-uncle Scott Normand, establishing a church in which Black people were free to worship. She devoted herself to Christ and the Lutheran Church for the duration of her life.
Bea's entire formal education was acquired in Lutheran schools. After completing her formative years at St. Paul Lutheran School in Mansura, Louisiana, she furthered her higher learning at Concordia Lutheran College in Selma, Alabama.
In 1939, upon relocating to Houston, Texas, she immediately sought a Lutheran church home. Finding none in which blacks could worship without entering the back door, she and her aunt, Erma Johnson Green, following the example of their ancestors, co-founded Holy Cross Lutheran Church, the first black Lutheran church in Texas. Bea served in all auxiliaries of her local church, led the Holy Cross Altar Guild, and presided over the Holy Cross Ladies' Aid Society in conjunction with the Lutheran Women's Missionary League.
In 1940, she married the love of her life, Allie C. Green. Together the two faithfully served the church, community, and family. Bea was an excellent cook who enjoyed caring for her husband and served all meals on a strict schedule. On weekends and holidays, the couple entertained guests, including family and friends, with delicious food and games. Summertime included the company of her daughter, granddaughter, and later great-grandchildren who enjoyed downtown shopping with Mama Bea, followed by dinner—on schedule—with Daddy Allie.
In addition to being a devoted wife, Bea worked in the home of Mr. and Mrs. James Baker, Jr., the parents of 61st U.S. Secretary of State, James A. Baker, III. She was a politician in her own right. In the late 1950s and early 1960s, she and her friends Beatrice Barnes, Abbie Evans, Christie Hebert, Tilly Mason, Leroy Moses, and Beulah Shephard would pack a lunch, travel on a Greyhound bus to Austin, Texas, and sit on the Capitol Grounds all night Friday and Saturday, protesting for the right to vote. They continued this action until the Voting Rights Act passed in 1965. Bea and Abbie then worked together to open Voting Precinct #247, the first black voting precinct in the Cuney Homes of Houston's Third Ward. Bea served that precinct until 2006. In addition to being an advocate for voting rights, she energetically served the AFL-CIO's Women's Activities Division, Harris County Council of Organizations, Blue Triangle Branch YWCA Board, Magnolia Garden Club, Third Ward Community Club, Entro-Nous Club, and Model Cities. She worked without loss of vigor in the fight for equality. One of the highlights of her life was meeting the first black president, Barack Obama, in 2018 and being photographed beside him.
Bea remained an engaged citizen for the duration of her life. She enjoyed politics, luncheons, museums, live theatrical performances, fine dining, and line dancing well after her hundredth birthday. When she was no longer able to dance, she served as the mascot for the Houston Parks and Recreation Line Dancers. Her active involvement, strong wisdom, and encouraging spirit touched the lives of people of all ages and ethnicities. Though God called her home on Tuesday, November 9, 2021, she continues to shine as a beacon of light and model of faith for all who knew and loved her.
She was preceded in death by her parents; siblings Martha Ballard, Eleanor Bennett, Harvey Lehman, Otho Lehman, Hazel Lewis, and Annie Robinson; husband Allie C. Green; and daughter Harriette Jones.
She is survived by her cousin and exemplary caregiver, Deloris Johnson; granddaughter Diana Carrere; great-grandchildren Lionel Walker Jr. (Mondrall), Brynel Walker (Shardel), and Kionna Walker LeMalle (Averri); eleven great-great grandchildren; three great-great-great grandchildren; ten godchildren; several generations of nieces, nephews, and cousins; many loving and supportive neighbors; countless friends; and her Holy Cross Lutheran Church family.
Visitation:
Friday, November 19, 2021 at 11:00 AM
Trinity Downtown, 800 Houston Ave., Houston, Texas 77007
Funeral Service:
Friday, November 19, 2021 at 12:00 PM
Trinity Downtown, 800 Houston Ave., Houston, Texas 77007
Interment:
Friday, November 19, 2021 – Immediately following the funeral service
Paradise North Cemetery, 10401 W. Montgomery Rd., Houston, Texas 77088
Live Streaming:
Beatrice L. Green's funeral service will be live streamed by Trinity Lutheran Church at https://www.youtube.com/TrinityDowntownHTX.
3 entries.
What an amazing woman! So glad to have had the opportunity to be on her company and to call her Aunt Bea! She will be missed!!
My condolences to my dear friend/sister Diana. I know how close you were to your grandmother. Just know that you are surrounded with family and friends that love you. Your grandmother lived a fruitful life. You and your children, grandchildren and other family members and friends have many beautiful memories to cherish. My love and prayers are with the family doing this difficult time. R.I.P. Mama Bea ❤🕊
I'm truly honored to have enjoyed aunt Bea's sweet personality and wit. God blessed her with a special life and now has granted her the gift of a most perfect rest.