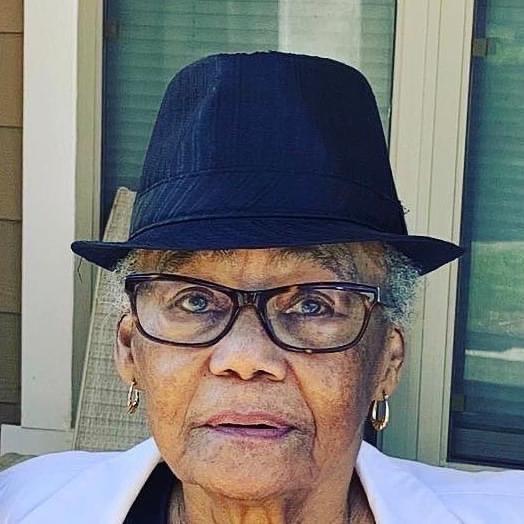 Joice Gibson
November 29, 1936 – July 26, 2022
Joice Alwena Johnson Gibson was born in 1936, the first of nine children to Dave and Reedie Johnson in St. Paul Community, Texas.  She attended the St. Paul Community school system though high school.  She then left her parents' home to attend Huston-Tillotson College in Austin, Texas. 
After college, she moved to Portland, Oregon, where she began raising Arleen, Karen and Troy.  She returned to Texas to join her family there and added one additional daughter, Jacquelyn.  She then worked in the insurance industry until her retirement. 
Joice was a long time faithful member of Jones Memorial UMC.  She served in almost every capacity during her time there.  Some highlights are Sunday School Superintendent, Administrative Board Member, founding member of Society of St. Stephens Food Pantry, Communion Stewards, Nursing Home Ministry, United Methodist Women, Brown Bag Ministry, member of Jones Memorial Area Seniors (JMAS), Congregational Care Ministry and Vacation Bible School. She also sang in the Sanctuary, Gospel and Celebration Choirs.  Her influence was felt by anyone who came in contact with her, and her presence will forever be missed.
She took her rest on July 26, 2022, after a battle with dementia. It would be wrong to say that Joice lost her battle because she never stopped fighting. Just because she is no longer here, it doesn't mean she lost her fight. 
She was preceded in death by her parents, Dave and Reedie Johnson, and her brother Joe Johnson.  She leaves to cherish her memory, her four  daughters, Arlene Denise Johnson Simien (Kerry), Karen Andre White, Troy Lynn Bonds, and Jacquelyn Yvette Gibson Smith; her nine grandchildren, Joshua Johnson,  Paul Turk, Ebony Johnson, Brian Gibson (Courtney), Amber Johnson, Anaya Bonds, Warren Bonds, Gabriel Smith and Hannah Smith, and six great grandchildren, Sheyla Martell, Donte Martell, Xenobia Gibson, Abigail Martell, Brian Gibson Jr., and Kira Gibson.  She also leaves five sisters, Bayonne Brown, Opal McCurdy, Portia Bogaert (Walter), and Jacquelyn Boyce (Bruce); two brothers, Charles Johnson and Edwin Johnson (Susan), one sister-in-law Marcia Tutts (Harvey),  along with a host of nieces, nephews, cousins, and dear friends.
Visitation:
Saturday, July 30, 2022 at 1:00 PM
Jones Memorial United Methodist Church, 2504 Almeda Genoa Rd., Houston, Texas 77047
Funeral Service:
Saturday, July 30, 2022 at 2:00 PM
Jones Memorial United Methodist Church, 2504 Almeda Genoa Rd., Houston, Texas 77047
Interment:
Private
1 entry.
She was a beautiful soul. I have so many fond memories of her time in Portland. She was my mother's (Eulah Johnson) favorite niece. She will be missed. May she rest in peace.