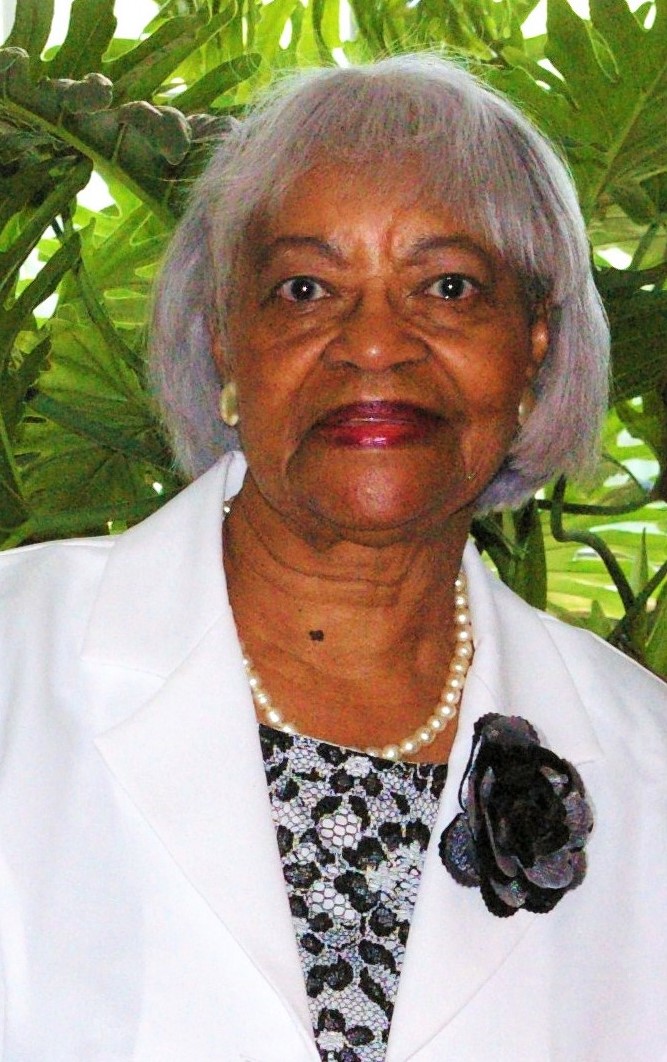 Ardell Sers
August 24, 1924 – February 13, 2021
Ardell Summers was born to Issie Page Summers and Theodore Summers in Kernes, Texas on August 29, 1924. Her early education began in Kernes public schools.  Ardell graduated high school in Dennison, Texas where she excelled academically and on the basketball team.  Ardell's love of basketball had its beginning in high school that extended throughout her life. Of course, her favorite teams were Houston's WNBA Comets and the Houston Rockets; however, Ardell was knowledgeable of most players and coaches on all the other NBA teams, too.
In Houston, Texas, on December 22, 1945, Ardell and Louis Oliver Sers (August 13, 1920 – March 14, 1997) were married. To this union one daughter, Brenda Joyce Sers was born (August 26, 1953 – April 27, 1985).  Judy, Oliver and Ardell's niece, became a member of the Sers family household on Wentworth Street in 1956.
Ardell retired from Sweeney Jewelers' downtown and Galleria locations in Houston, TX after many decades in their employment as a shipping and salesclerk. 
Ardell and her daughter, Brenda, often went to live stage productions together.  The most enjoyable stage productions for Ardell were ones in which Brenda was a member of the cast.  Ardell often reminisced about trips her and Brenda traveled together. As a young working person, Ardell liked shopping.  "Shop til you drop" was her motto. After retirement she began making unforgettably delicious fruitcakes, which she gave to family and friends on Thanksgiving and Christmas. Another pastime after retirement was going to Louisiana casinos with three of her girlfriends.
Ardell was fiercely independent.  She had a memory everyone envied.  When talking to her, it was obvious she was very opinionated. Her quiet dignity in dealing with the loss of each family member was inspiring to others and a testament of her strength of character and faith. 
Like Ardell's grandmother, Betty Bowen Page, Christian Scientist Religion offered the foundation of her faith.  She attended Sixth Church of Christ Scientist until it was closed.  She maintained her membership at Fourth Church of Christ Scientist until her passing.
Ardell is preceded in death by her parents and step-father Edmond Jolivet; husband, daughter, and sister, Theresa Summers Bergans. 
To honor her memory are god-daughter/niece, Julia "Judy" Frilot Williams of Marshall, TX; nieces, Janice Frilot Robinson (Thurman), Madelyn Frilot Randle, Sharon Frilot Johnson (Michael) all of Houston, TX and Mary Katherine Frilot Rosser (Daniel) of Decatur, GA; nephews, Donald Frilot (Gail) of Houston, TX;  Lloyd Frilot, Jr. (Gail) of El Paso, TX and Mike Calhoun (Donna) of Indianapolis, IN;  devoted cousins, Charles Page of Dallas, TX, Betty Thompson of New York City, NY and Clifton Thompson of Dallas, TX; Freddye Thelma Dizer, Pat Odom (Harold), Brenda North, Brandon North and Rev. Dr. Romanuel Washington all of Houston, TX; lots of great and great-great nieces and nephews; other relatives and friends.
Visitation:
Tuesday, February 23, 2021 from 3:00 – 5:00 PM
McCoy and Harrison Funeral Home, 4918 Martin Luther King Blvd., Houston, Texas 77021
Graveside Service:
Wednesday, February 24, 2021 at 2:00 PM
Houston Memorial Gardens Cemetery, 2426 Cullen Blvd., Pearland, Texas 77581
1 entry.
It is with great sorry and sadness that I say goodbye to a wonderful woman who I have come to love as my adopted, Aunt Ardell. Thank you for all of your love, kindness and delightful personality. I have been honored to be a part of your extended family. Aunt Ardell, casinos will never be the same for me without you. You have hit the "big jackpot" now that you have gone to be with the Lord. You will always be in my heart as a precious memory.