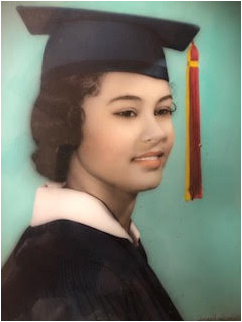 Sweeney Rogers
November 7, 1944 – November 2, 2021
Sweeney Urita Rogers was born November 7, 1944, in Houston, Texas. She was the eldest of six children born to Archibald Mouton and Isabelle E. Mouton.
She accepted Christ at an early age and was baptized at the historic St. Nicholas Catholic Church in Houston, Texas. She attended St. Nicholas and later transferred to public school and graduated from Jack Yates Senior High School located in Houston, Texas. She also attended college at Texas Southern University.
Sweeney married Roy Hawkins (deceased) and this union was blessed with two sons, Gerald and Tracy. Sweeney married Benjamin Rogers in June 1974. They were blessed with twenty-seven joy filled years of marriage until his death in 2001.
Sweeney was an employee at Riverside General Hospital for approximately thirteen years. During her time there Sweeney was a member of the Riverside Bowling Team. She began her postal career in 1978 at the United States Postal Service in Houston, Texas. Sweeney remained at the post office for over thirty years until her retirement. Sweeney was an active and diligent member of Knights of Peter Claver (KPC), Ladies Auxiliary Court 238, Ladies of La Salette Sodality, Golden Agers, and Senior Senate.
She peacefully departed this life early Tuesday morning, November 2, 2021. She is preceded in death by her parents Archibald Mouton and Isabelle E. Mouton; two husbands, Roy Hawkins and Benjamin Rogers; 2 brothers, Stephen Mouton (Virgie) and Samuel Mouton (Ume).
Sweeney Rogers leaves to cherish her memories: two sons Mr. Tracy Hawkins (Cynthia) and Dr. Gerald Hawkins (Cherice); seven grandchildren, Arrica Lagsding (Ryan), Brandon Hawkins, Shelby Hawkins, Ronald Byars, Lovora Byars, Ira Byars and Mechell Kasee; twelve great-grandchildren, Rysan Lagsding, Haden Byars, Stevii Byars, India Byars, London Byars, Brandon Byars, Ira Byars Jr., Ron Byars Jr., Renee Byars, Jue Byars, Ivan Byars and Serenity Byars; one sister, Sheila Mouton; two brothers, Stanley Mouton (Barbara) and Sidney Mouton; and a host of nieces, nephews, cousins, relatives, and beloved friends.
Wake:
Friday, November 12, 2021 from 6:00 to 9:00 PM
McCoy and Harrison Funeral Home, 4918 Martin Luther King Blvd., Houston, Texas 77021
Funeral Service:
Saturday, November 13, 2021 at 11:00 AM
St. Mark the Evangelist Catholic Church, 5430 W. Ridgecreek Dr., Houston, Texas 77053
Interment:
Monday, November 15, 2021 at 10:00 AM
Houston Memorial Gardens Cemetery, 2426 Cullen Blvd., Pearland, Texas 77581
7 entries.
My flesh and my heart may fail, but God is the strength of my heart and my portion forever. Psalm 73:26 NRSV MY thoughts and prayers are with the family. God will see you though this difficult time.
Our Heart ❤ Felt Condolences to Tracy, Gerald, Sheila, Stanly, Sidney and all of Sweeney's immediate and extended family. We love her and we will miss her dearly. We are thankful to God for the time we had with her. We are also Joyful that she has departed to her Heavenly and Peaceful New Life. Dick and Family.
Peace be with family and friends.
My deepest sympathy to the family praying for comfort and strength at this difficult time Rest Peacefully Sweeney u will be truly missed 😇🙏🙏
PRAYERS FOR THE FAMILY.. STAY STRONG AND BE BLESSED!!!
My prayers are with Ms. SWEENY'S Family. She was my mom Margaret Woodard's co worker, a very sweet and beautiful women. 🙏🕊
Sweeney, it was a joy knowing you and having you as a co-worker for many years. Rest in Jesus!