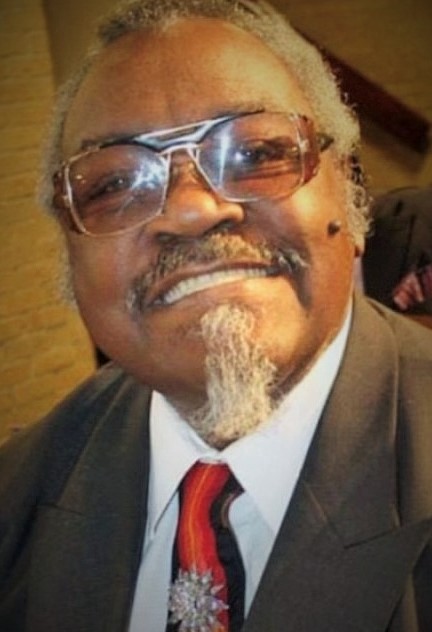 Rev. Asa Sampson
August 3, 1941 – July 25, 2022
Psalm 37:23 says that the steps of a good man are ordered by The Lord. The life of Rev. Asa W. Sampson, Sr. exemplifies this scripture. The product of a loving home from humble beginnings in Houston, Texas, Rev. Asa began his earthly and faithful journey on August 3, 1941, and was a special delivery born to proud and loving parents, Harry Burney Sampson, Sr., and Annie Belle Sampson.
Asa completed his early education in the Houston Independent School District. He enrolled at Texas Southern University completing his undergraduate studies with Bachelor of Arts degrees in both English and Psychology. He continued his studies at Texas Southern University and completed his Master of Arts degree in Psychology. An Honorary Doctor of Ministries was bestowed upon him from the Mount Hope Bible College.
With an abundance of God-filled love and faith, Asa accepted Christ as his Lord and Savior and was baptized at an early age. This would ignite his devotion to the Lord, and he would become Pastor of Hopewell (Temple) Missionary Baptist Church, where he biblically ministered with delicacy for over 50 years to parishioners, the community, strangers, and anyone in need. No matter what tasks he embarked upon, he proved himself to be dedicated, committed and trustworthy.
On May 3, 1972, Asa united in holy matrimony with Miss Sallie Marie, and they began a divine love story. He was a devoted father to one daughter, Seraphia, and a son, Asa Jr. Asa didn't believe in limiting his love, extending his heart with the gain a son and daughter-in-love, Thomas (Seraphia) and Lucretia (Asa Jr.), as well as his three grandchildren, Asia Anne, Trey, and Ava Grace.
Always civic minded and community engaged, Rev. Sampson was a pillar to many organizations who have benefitted from the benevolence and generosity of his ministry. His greatly loved being involved, especially as a member of The National Baptist Convention, where he received much inspiration.
Asa remained strong in his faith during his journey on this Earth and was an inspiration to everyone who knew him. Indeed, the steps of this good man were ordered by The Lord, and he followed His path. He gave until the end of this life as we know it and is now watching over us until we shall meet again.
God, in His infinite wisdom, called Rev. Asa W. Sampson, Sr. home to eternity on Monday, July 25, 2022. He was preceded in death by his father, Harry Burney Sampson, Sr.; mother, Annie Belle Sampson; brother, Harry Burney Sampson, Jr.; and nephew, Mark Sampson.
He is survived by his wife, Dr. Sallie Marie Sampson; daughter, Dr. Seraphia Sampson Lott (Thomas); son, Asa Sampson, Jr. (Lucretia); grandchildren, Asia Anne Sampson, Asa "Trey" Sampson, III, and Ava Grace Sampson; brothers, Franklin Sampson, Sr. (Marie) and Rueben Sampson, Sr. (Laverne); sister, Jenean Sampson Spikes; and a host of nieces, nephews, other relatives, church members and friends.
Wake:
Thursday, August 4, 2022 from 7:00 to 9:00 PM
The Church Without Walls, 7500 Eldridge Parkway, Houston, Texas 77083
Visitation:
Friday, August 5, 2022 at 10:00 AM
The Church Without Walls, 7500 Eldridge Parkway, Houston, Texas 77083
Funeral Service:
Friday, August 5, 2022 at 11:00 AM
The Church Without Walls, 7500 Eldridge Parkway, Houston, Texas 77083
Interment:
Friday, August 5, 2022 – Immediately following the funeral service
Houston Memorial Gardens Cemetery, 2426 Cullen Blvd., Pearland, Texas 77581
9 entries.
Deepest Sympathy's to the family and Hopewell.
To Sis Sallie M. Sampson and family. While our hearts are saddened at the passing of my dear friend and mentor. We share in your grief. Our prayers are for you and family. Blessings on you 🙏🙏❤️
To my Pastor, Heaven has gained an Angel. I greatly appreciate all your guidance.
Thank God for the give of memories so Pastor Sampson will be with many for years to come. Prayers to the Sampson family and to his sister who became my friend in the mid 60's. I thank God for the relationship that gave me with her parents and brothers.
The The Sampson Family , We are praying for you during your time of bereavement. Look to the Hills from whence cometh your help. Your help comes from the Lord. Your Cousins Larry Swanson and the entire Swanson Family Indiana Arizona California Texas Illinois
Prayers and condolences extended to the entire Sampson family doing this grief time of ur lives. I remember Rev Asa Sampson as a dynamic preaching Pastor along with his preaching brother Rev F.D. Sampson. Growing up my family would call them the Sampson boy's in acres homes. Just know he's safe in God's hands and God will help u thru this difficult time.
Sincere Sympathy David & Doris Fields Arceneaux Houston Texas
Pastor Sampson's life for Christ will forever be remembered. My prayers for the Family and Hopewell are without ceasing today and in the days ahead.