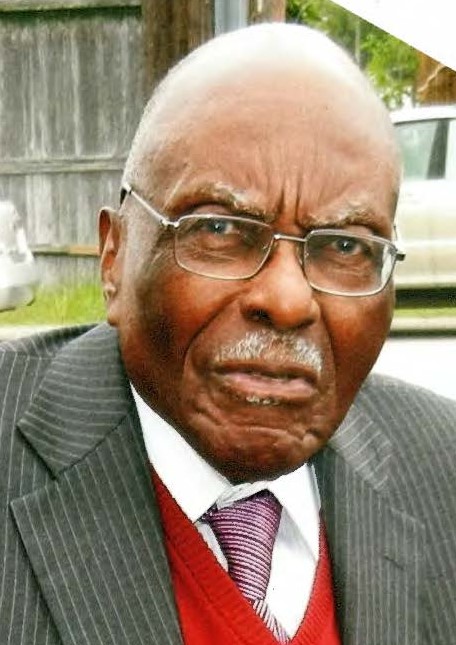 Llayron Clarkson
August 31, 1924 – January 29, 2022
A Houston native, World War II veteran and educator, Llayron Clarkson's motto   was "if I can help somebody along the way, then my living will not be in vain." Clarkson mentored well, nurturing generations of Texas Southern University students and some of America's most notable leaders.
Dr. Llayron L. Clarkson was born on August 31, 1924, and he passed from this earthly realm on January 29, 2022. Clarkson was the oldest of Llayron and Roxie Clarkson's three children. His sister, Amelia, predeceased him in 2000. Clarkson was reared in Third Ward, Houston, Texas and learned the virtues of hard work and Christian principles as he became a life-long member of St. John Missionary Baptist Church. Clarkson's father died when he was only 9 years of age, leaving his mother to take care of three children alone. True to his motto of helping, Clarkson soon started taking odd jobs to help his mother, a domestic worker, support the family. After graduating from Jack Yates High School in 1940, Clarkson joined the National Youth Administration, a program established under President Franklin Roosevelt's New Deal to help combat the problem of youth unemployment by providing them with certain skills. There, Clarkson acquired the skills of carpentry, plumbing and electricity.
In 1943 Clarkson was drafted into the Army and was sent to Europe where he served in North Africa and later in Italy. On March 3, 1947, when the state of Texas established Texas State University for Negroes, (now Texas Southern University,) as the first state university in the city of Houston for African Americans, Clarkson became one of its first students. There, he earned the bachelor's and master's degrees in mathematics. Later he enrolled at the University of Texas at Austin and became the first African American to earn a PhD in mathematics from this flagship university. Afterward, he did post- doctoral work at Massachusetts Institute of Technology (MIT) and attended Stanford University as a Shell Merit Fellow. In addition to his academic accomplishments, Llayron Clarkson was a member of Kappa Alpha Psi Fraternity.
Clarkson taught at Jack Yates High School from 1951 -1960, and later accepted a teaching position at Texas Southern University. At TSU, Clarkson held several positions including Head of the Department of Mathematics, Dean of the College of Arts and Sciences, Vice President of Academic Affairs, Executive Vice President, Director of Campus-Wide Academic and Information Systems, and Director of Institutional Research. Upon retirement from the university, Clarkson served as Chairman and CEO of Clarkson Aerospace, Corp. a research and development engineering firm.
Three children survive Clarkson, Llayron Jr., Pamela, and David (Zeny and son Deuce); two grandsons, Zachary, and Aaron; two great grandchildren Vivian and Roman; one brother Virgil (Barbara); and a host of relatives, and friends who love him dearly.
Clarkson was a strong, kind, caring and gentle man. He was devoted to family, dedicated to the education of Black people, and faithful to his Christian upbringing. The legacy he leaves is that we make a conscious effort to "help somebody."
In lieu of flowers, please make contributions to the following website:
https://giving.tsu.edu//llayron-clarkson-sr-endowment
Visitation:
Saturday, February 5, 2022 at 9:00 AM
St. John Missionary Baptist Church, 2222 Gray St., Houston, Texas 77003
Funeral Service:
Saturday, February 5, 2022 at 11:00 AM
St. John Missionary Baptist Church, 2222 Gray St., Houston, Texas 77003
Interment;
Private
3 entries.
To the Clarkson family Sending our prayers and condolences. He will be truly missed but never forgotten. Sincerely, The Spencer family
Condolences and blessings to the Clarkson family. Former co-worker and TSU Alumni
I am grateful. Thank you, Lord for allowing me to be mentored by Dr. Llayron Leon Clarkson. "A charge to keep I have, A God to glorify, A never-dying soul to save, And fit it for the sky. To serve the present age, My calling to fulfill: Oh, may it all my pow'rs engage To do my Master's will!." Lyrics by Charles Wesley I am praying for the family. The love demonstrated by Pamela and her family reminded many of us to always demonstrate love.