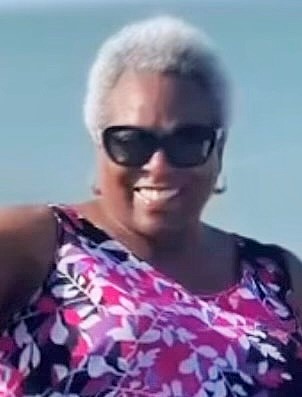 Karen Bobb
July 17, 1956 – October 24, 2023
On July 17, 1956, a lustrous light illuminated the earth when Karen Ann was born to Peter and Regina Prince Bob in Opelousas, Louisiana.  She was raised in Houston, Texas when they moved to Houston, in 1958.
Karen united with St. Mary's, Catholic Church at an early age. She was inspired to unite with Pilgrim Congregational United Church of Christ by her brother Mark where she served as a former trustee.
Preceded in death by her parents Peter Bob and Regina Prince Bobb, two brothers Michael  Ray Bobb and Mark Anthony Bobb and one niece Ashely Bobb, her grandparents Mack and Mildred Rivette Prince and Cleveland & Marie Bob.
An overachiever from an early age, Karen began her superior educational career at St Mary's for grade school, then to James D. Ryan Jr. High and Cullen Jr High.  Her educational excellence continued to soar as she graduated with honors. She donned the Crimson & Gold and became a  Jack Yates Lioness  participating in the Girls Senate, Drill Squad, Charmettes,  Senior Legislative Assembly, Young Life and  Vocational Office Education. Her educational excellence continued to soar as exemplified in her attendance in Major Works classes, member of the National Honor Society, Mu Alpha Theta Math Honor Society and as a National Merit Semifinalist. She graduated with honors in the top Ten Percent of the Class of 1974. Karen had the opportunity to apply for a scholarship. However, she didn't feel she would get it, so she didn't complete the application. After her mother retrieved the application, completed and submitted it, Karen received the scholarship and a full ride to the University of Houston where she graduated with Honors with a BS in Accounting in 1978.
Karen had a varied vocation history which included an Accountant with Phillips Petroleum where she was transferred to Aurora, Colorado for seven years. Further positions included Senior Volume Analyst with Occidental Petroleum, Amoco Gas CenterPoint Energy, Symmetry Energy and Solutions;  Senior Settlement Analyst, with Columbia Energy; Senior Analyst with Texaco.         
A voracious reader from an early age, she read all over the house at night especially under the cover with a flashlight. As a teen and beyond, she read a plethora of Harlequin Romances as well as Nora Roberts in her middle years.
Now when it came to music she had an eclectic taste, yet she loved Stevie Wonder the most from a very early age. A member of the Wentworth Street Squad, many, many hours were spent playing with the crew.   They had fun day in and day out. They also left a treasure trove of great memories.
        The NAACP ACT-SO competition was blessed to have her volunteer. She eagerly looked forward to attending the yearly conventions with the scholars.
Karen loved to have fun especially with friends and family.  A dinner at Papadeaux's was the ideal meal. Going to look at model homes. Christmas lights and especially going to the beach was a treat. And she loved to drive anywhere and everywhere.
Her smile was infectious, her laughter irresistible. No matter how many places she loved to go, she was always late. She nurtured and adored her nieces, great nieces and great nephews.
On Tuesday, October 24, 2023 at 12:40PM, her earthly light was forever dimmed. Yet it will forever shine in the hearts of her Aunt and Uncle Gertrude & Willie Harris, Nieces Marqweshia Turner, Marshae Bobb & Taylor Armstrong ; Great Nephews  DeMarkus Turner. Mason and Jace Norris; Great Niece Londynn Mc Gowan and a host of family and friends.  Special thanks to Sister Mama Sonya and Mary Williams for their love and support as they sat at her bedside to the very end.
Karen Ann's lustrous light will ever illuminate the earth and she always be a radiant beacon in our hearts and minds forever.
Memorial Service:
Saturday, November 18, 2023 at 11:00 AM
Pilgrim Congregational United Church of Christ, 3115 Blodgett St., Houston, Texas 77004
Live Stream:
www.pilgrimchurchhouston.com
Go to the media tab for streaming.
1 entry.
My JY classmate, my friend, my buddy with the group for the Miller Outdoor Theater, Ensemble Theater, and Birthday celebrations - you will be truly missed. Love 'ya always from one Lionette to another!🦁❤️💛