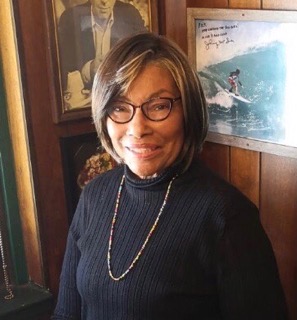 Anita E. Monk
August 15, 1940 – October 13, 2020
Anita Jones Monk died on October 13, 2020 at MD Anderson Cancer Center just a few weeks after celebrating her 80th birthday.
 Anita grew up in Berkeley, California where her mother was one of the founding members of the Oakland/Bay Area chapter of Jack & Jill of America. She graduated from Berkeley High School and went on to the University of California at Berkeley where she became a member of the Alpha Kappa Alpha sorority. After three years she transferred across the Bay to UC San Francisco and earned a Doctor of Pharmacy degree in 1966.
While a student, she met and wed the love of her life, Clayborne Monk. They moved with their two children to Houston, Texas, so her husband could work as a professor at an HBCU – Texas Southern University. But even in the heart of Texas, she always identified as a Californian. Anita went on to work as a pharmacist at MD Anderson Cancer Center for 33 years. 
She enjoyed calling family and friends for long chats and made a point of remembering and calling on birthdays. She loved hearing about people's life stories and often made friends out of strangers she met by chance. Her favorite icebreaker was her "story of 26", which she often cited whenever an event happened on the 26th of the month. 
She was predeceased by her husband, Clayborne Monk, 26 years ago. She is survived by her two children Susan Monk and Mike Monk, daughter-in-law Janée Robinson, and countless beloved family members and friends. She will be greatly missed.
In lieu of sending flowers, donations can be made to Sisters Network Inc. (http://www.sistersnetworkinc.org/) – a national African-American breast cancer survivorship organization or to the charity of your choice.
— Every time we think of you we smile, and know we'll see you again after a while.–