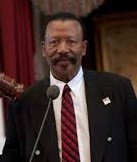 Albert Edwards Sr.
March 19, 1937 – April 29, 2020
State Representative, Honorable Albert Ely Edwards Sr. was born March 19, 1937 in Houston Texas.  He was born the sixth child of sixteen children to Reverend E. L. Edwards, Sr. and Josephine Radford Edwards.
Edwards attended Phillis Wheatley High School (Houston, TX) and continued his education at Texas Southern University where he earned his Bachelor of Arts in 1966. Edwards received a Physical Therapy Certification from Tuskegee Institute and an Honorary Degree from the University of Belize in 1983. In 1996 Edwards obtained a Doctor of Divinity Degree.
Blessed to be raised in a loving Christian home, Edwards accepted Christ and was baptized at an early age.   His faith was grounded at Community Baptist Church in Acres Home under the leadership of his father, Reverend E.L. Edwards, Sr. He attended Progressive New Hope Baptist Church in Houston, TX for over 60 years and was an ordained minister under Pastor L.L. Atkins, Sr. in 1990.
In 1956, Edwards married Katie Jackson and to that union was born Rosalind. In 1960 he married Barbara and to that union was born Alicia & Marla. In 1969, Albert married Lana Cloth and to that union of 25 years were born Albert Ely II, Jason Kiamba, and Alana Catherine Raquel. 
Edwards became the first General Foods black sales representative after filing and winning a discrimination lawsuit in 1968 and served the community with Rev. & Mrs. C Anderson Davis in the celebrations of Juneteenth with the National Emancipation Association and the NAACP.  
At the age of 38, Edwards was initiated into the Alpha Eta Lambda Chapter of Alpha Phi Alpha Fraternity in 1975.  In October 1979, Edwards was initiated into Northside Lodge #214 of UMW Scottish Rite Grand Large A F & A M of Texas, Inc. He was a Master Mason. 
At the age of forty-one, Edwards entered politics running against 12 opponents and was elected to the Texas State Legislature from Houston's House District 85 which later became District 146. His first major goal was to ensure the establishment of a holiday that recognized the Emancipation of Slavery.  In 1979, legislation recognizing Juneteenth Day was initiated by Edwards and passed the Texas State Legislature.  The bill was signed into law by Governor Bill Clements as the first state holiday in the U.S. recognizing Juneteenth as the last Emancipation Day of slaves in the United States. This holiday is now an annual holiday in fourteen states of the United States. Celebrated on June 19th, it commemorates the announcement of the abolition of slavery in Texas. 
While serving in the legislature, Edwards also founded his own real estate company, Al Edwards & Associates. Though deeply involved with local issues, Edwards remained active in many issues outside the Texas State Legislature. In 1983, Edwards was appointed as a member of the board of Operation PUSH and featured in Texas Monthly with his family and neighbors from his MacGregor neighborhood. Edwards led the group that revived the Thanksgiving football rivalry between Jack Yates High School and his alma mater Phyllis Wheatley High School in an alumni event known as "Turkey Day Classic".
Edwards also served as the Texas State Chairman of Reverend Jesse Jackson's two presidential campaigns in 1984 and 1988. In 1986, Edwards also founded Operation Justus, a community faith-based organization that serves as a referral service for persons with social problems and concerns. Edwards was arrested in Houston and went to jail for peacefully demonstrating against apartheid in South Africa in 1987. As a veteran member of the Texas Legislature, Edwards served on many influential committees. Edwards was the Chairman of the Rules and Resolutions Committee, Chairman of Budget and Oversight of the Ways and Means Committee and a member of the Appropriations Committee. Edwards also was Chairman of the Texas Legislative Black Caucus 1991 – 1997. He also founded the Texas Black Legislative Weekend in Austin.  In 1995, he joined the Democratic National Committee board and served as National Vice Chairman of the DNC Black Caucus for 10 years and went on to serve as National Chairman of the DNC Black Caucus for 6 years. Edwards served 26 years as a State Legislator in District 146.
Although Edwards dedicated his life to his career and serving others, he was also an avid tennis player who trained at MacGregor Park with John Wilkerson and Al Hagen.He played frequently at the home of the late Herbert and Georgia Provost. The enjoyment of playing tennis led Edwards into sponsoring the Al Edwards Juneteenth Tennis Classic. 
Edwards dedicated his life to serving others and in June of 2006, the Albert Edwards Sr. 20-foot bronze statue at Ashton Villa, Galveston, TX commemorating Juneteenth annual celebration since 1979 was erected.
Edwards is survived by his devoted and loving former wife, Lana Cloth Edwards who was influential and instrumental in his growth and success throughout his entire career. Lana also remained his support system and was unconditionally dedicated to his comfort and healthcare until the Lord called him home on April 29, 2020. 
His memories will be cherished by his loving children and grandchildren.
Albert Ely Edwards II (Trelle), Jason Kiamba Edwards (Denise), Alana Edwards Holloway
Grandchildren – Alexis and Albert III, Sidney and Sloane, Melvin V
Rosalind E. Morgan (Leyton),Marla Anderson (Alvin), Alicia Gordon
Grandchildren – Candace and Leyton III, Bryan and David, 
Sean Leigh, Lucean Kuykendall (Darrell)
Grandchildren – Kennedie and Chelsia, Ajah
Albert was preceded in death by his parents, Reverend E. L. Edwards, Sr. and Josephine Radford Edwards; his beloved sisters Betty Jean, Beverly and Elrine E. Henson; and beloved brothers Russell, Donald, Phillip and Reverend Eldridge L. Edwards Jr.  His devoted sisters, Josephine E. Lyles and Mary E. Bonham (Roland); and devoted brothers, Alfred Edwards (Jackie), William Earl Edwards (Cathy), Redick Edwards III (Edith), David Edwards Sr. and Paul Edwards (Donna). His three darling aunts: Myrteal Radford Howard, Gladys Lorine Radford and Myrtha Edwards Webster. He will be missed by a host of nieces, nephews and cousins.
Due to COVID-19 restrictions, the service will be virtually streamed online on Friday, May 8, 2020, at 10 a.m. (Central) from The Community of Faith Church. Services will be Co-led by Bishop James Dixon and Pastor L.L. Atkins of Progressive New Hope Baptist Church. The Community of Faith website, along with the Al Edwards Sr. Facebook page, will have all details regarding links to view the live stream.
Due to COVID-19 and the need for social distancing to keep everyone safe, only the immediate family and church personnel will be allowed on the church grounds, and no one will be allowed to gather near or around the church.
Afternoon live-stream of graveside services: Austin, Texas 
The interment ceremony will be in Austin, Texas, later that same day, Friday, May 8, at 3 p.m. (Central) in the afternoon. A brief graveside service will be broadcast online from the Texas State Cemetery in Austin, Texas. The link to view the graveside service will be found on the website for The Community of Faith Church in Houston and the official Facebook page for State Rep. Al Edwards Sr. @RepAlEdwardsSr (Facebook @ Address)
In lieu of flowers, we ask you to support Dad's favorite cause; the education of Juneteenth and the story of emancipation. Please send checks to "Juneteenth USA" at 3355 West Alabama St., Suite 640 Houston TX 77098.
Once again, on behalf of our family, we truly appreciate the outpouring of support at this time. If there are any media inquiries, please send a message through the official Facebook page noted above.
Funeral Service:
Friday, May 8, 2020 at 10:00 AM
The Community of Faith Church, 1024 Pinemont Dr., Houston, Texas 77091
Interment:
Texas State Cemetery, Austin, Texas
1 entry.
OUR PRAYERS ARE WITH YOU AND THE FAMILY. GOD IS OUR REFUGE AND STRENGTH. LOVE YOU LUCEAN ELLIS FAMILY