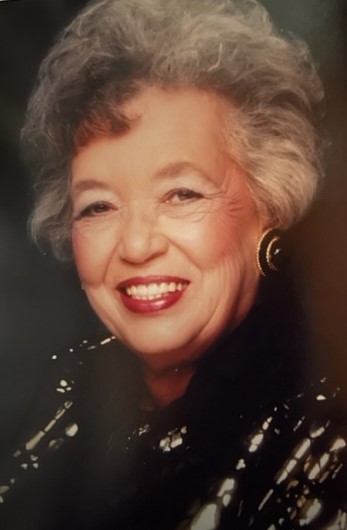 Thelma Chevalier Mouton
April 13, 1928 – February 25, 2023
Thelma Chevalier Mouton, affectionately known as Grandmother, was surrounded by her family when she died February 25, 2023 at the age of ninety-four.  
Thelma was born in Arnaudville, Louisiana and was the oldest of nine children.   She was preceded in death by her parents, Nathan and Stephanie Chevalier, her siblings Nathan Chevalier,  Doris Thompson, Vivian Bosley, Roland Chevalier and Ezebe Chevalier.
Thelma was baptized at St. Rose of Lima Church, educated in New Orleans at St Monica's Catholic School and graduated from Booker T. Washington High School in New Orleans.   After high school she moved to Houston and married Clarence Mouton. To this union came four children.
Thelma was a woman of honor and integrity, a devoted Christian who never missed Sunday Mass, who loved and cherished her family.  She was blessed with an abundance of wisdom that she used all of her life to help and encourage others.  She had very strong work ethics as a Supervisor at Standard Bag Company, as Project Manager of Operatons for One Source Services at Pennzoil Place, and at her flower shops:  Mouton's Florist & Atchison Flowers.  She sold her crocheted crafts, made hats, was a seamstress, as well a salesperson for many years for various home products.
Thelma is survived by her children Shirley Sellers (John), Cynthia Barrs (Ronald), Deborah Gabriel (Walter), and Nathan Mouton (Gloria).  She also leaves her siblings to cherish her memory Irma Robicheaux, Lillian Rosignon, JoAnna Chevalier and sisters-in-law Isabella Chevalier & Rose Chevalier.  She adored her grandchildren Kristin, Nathaniel (Lady), Jason (Megan), Walter, Jr. (Christine), Mark, Johnathan, Elizabeth (Joseph), Christopher(Lawren), Nicholas(Alexis), & Angelina; numerous great grandchildren; and a great-great grandchild.
Thelma will be remembered for her determination, generous character, her feisty spirit, humorous attitude, her creativeness with flowers and extremely hardworking fortitude especially in her flower shops which she dearly loved.  She emphasized education until all four of her children graduated from college.
Visitation:
Thursday, March 2, 2023 at 8:00 – 9:45 AM
St. Vincent DePaul Catholic Church, Our Lady of Lourdes Chapel, 6800 Buffalo Speedway, Houston, Texas 77025
Funeral Service:
Thursday, March 2, 2023 at 10:00 AM
St. Vincent DePaul Catholic Church, Our Lady of Lourdes Chapel, 6800 Buffalo Speedway, Houston, Texas 77025
Interment:
Friday, March 3, 2023 at 2:00 PM
St. Francis Regis Church Cemetery, 231 Main St., Amaudville, Louisiana 70512
4 entries.
I am so thankful for you. You welcomed me into your family. You displayed and taught us life so many life lessons. Thankful for the years we spent together. God Bless you and always hold you. Love you Mom.
I will miss my sister Thelma, remembering her as humorous, wise, and dedicated to anything she set forth to do ! I have visions of her always running around in the house rushing to get where she needed to be on time. I called her Edith Bunker, running around in a bit of a frenzy forcing You to clear her path! While laughing at herself!
Thelma Mouton, what an amazing woman, amazing legacy. Your love and wisdom that you shared with everyone that took the time to listen and learn will live in in their hearts forever. A family icon.You will be truly missed and never forgotten .My condolences to the family. Raymond Gerard Sellers
☦️🙏🏾ℛ𝑒𝓈𝓉 ℐ𝓃 𝒫𝑒𝒶𝒸𝑒 𝒟𝑒𝒶𝓇𝑒𝓈𝓉 𝒜𝓊𝓃𝓉 𝒯𝒽𝑒𝓁𝓂𝒶. 𝒢𝑜𝓃𝑒, 𝓃𝑒𝓋𝑒𝓇 𝒻𝑜𝓇𝑔𝑜𝓉𝓉𝑒𝓃 𝒶𝓃𝒹 𝒹𝑒𝑒𝓅𝓁𝓎 𝓂𝒾𝓈𝓈𝑒𝒹. 🙏🏾💟