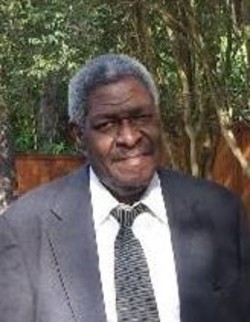 Ronald Goree Mock
November 15, 1946 – December 30, 2018
Ronald Goree Mock, Esq. died peacefully on December 30, 2018 in Houston, TX. He was born on November 15, 1946 in Houston, TX along with his twin brother, Donald Lee Mock.
Ronald was a graduate of the Class of 1964 of Jack Yates High School and went on to obtain a degree in political science at Texas Southern University.
In May of 1978, he earned his Juris Doctorate Degree from Texas Southern University and practiced criminal law for over 40 years. He was Attorney Ronald "Ron" Mock until his last breath. Ron leaves to cherish his memory a loving wife of 50 years, Ardell Mock.
His children: Demetria Johnson and Kary Mock (Casondra); six grandchildren: Nori Johnson, Morgan Ingram (Samuel), Brandon Mock, Lunden Johnson, Kerrigan Mock, and Chancellor Thompson; and four great-grandchildren: Zion Johnson, Cadence Ingram, Asher Mock, and Lillie Ingram. Ron also leaves behind a wealth of friends and colleagues from his many years of law practice.
Funeral services will be held on Friday, January 4, 2019 @ 11:00 am and Visitation will be from 10:00 -11:00 am. at St. John's United Methodist Church, 2019 Crawford St., Houston, Texas 77002, Pastor Rudy Rasmus, officiating. The interment will be private.