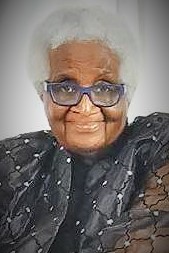 Rita Ronna Greene
August 16, 1938 – July 7, 2023
First Lady Emerita, Rita R. Greene
We announce the passing of First Lady Emerita, Rita R. Greene, who transitioned to her Heavenly Father on Friday, July 7, 2023.
Funeral services are scheduled for Monday, July 31, 2023 at 11:00 AM CST at The Church of God of Prophecy, 4610 Sunflower Street, Houston, Texas 77051.
Funeral service will be live streamed on YouTube channel ESCOGOP.
The family is asking in lieu of flowers, contributions be made to COGOP-Angel Vanterpool Scholarship Fund.
Visitation:
Monday, July 31, 2023 at 9:00 AM
Church of God of Prophecy, 4610 Sunflower St., Houston, Texas 77051
Funeral Service:
Monday, July 31, 2023 at 11:00 AM
Church of God of Prophecy, 4610 Sunflower St., Houston, Texas 77051
Interment:
Monday, July 31, 2023 at 2:00 PM
Houston National Cemetery, 10410 Veterans Memorial Dr., Houston, Texas 77038