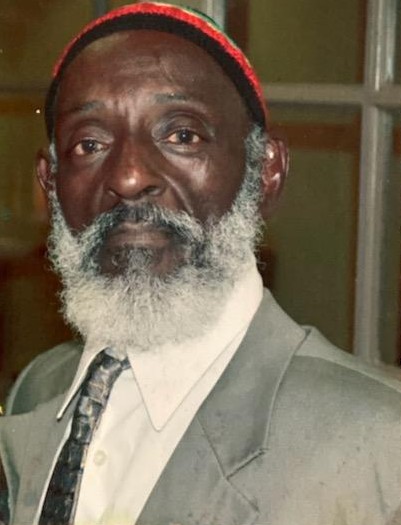 Randolph Gibson
January 19, 1958 – November 3, 2020
(Click the image to view the full program)

Randolph Gibson 1958 – 2020
On January 19, 1958, in the small town of Nacogdoches, Texas, Randolph Gibson, also known as Enoch, was born to Willie and Eugenia Gibson. He made a name for himself because he was so loving and funny. He never met a stranger! Once you met Enoch, you never forgot him! He loved telling his life stories and making you laugh.
Enoch moved to Atlanta, Georgia, where he raised his three infant children as a single parent ( Afryea, Kahleel, and Semone). When the children became older, Enoch moved to Houston, Texas.
Enoch's family extended beyond his birth family. He shared his love and heart with Vicke Arnold (who gave him the name "Enoch"), and her daughter Maryam Boseman. Darlene Tarkington, and her children, Haley Collins, Devon Collins, Malaysia Evans, and, Drakkar, Jr. As well as, Juanita (Xlylmah) Gumbs, Gionna Gumbs, Marquis Gumbs Boykin, Skye'lyn and Zamira Boykin Gumbs.
Enoch loved people so much that he would feed the ones in need, take care of them, and even bring them into his home to live.
Enoch was strong and always had positive words to share with individuals. Even though he was very sick toward the end of his life, he still helped people and did things on his own. The day before he passed, Enoch mustered up the energy to drive to the beach to enjoy the waves.
Randolph "Enoch" Gibson truly will be missed. However, as Enoch always says in his Rastafari accent. "Don't Worry, Everything's, Gonna Be Alright." One Love! He was preceded in death by his father, Willie Gibson, and his oldest brother, Azikiwe (Zik) Joe Dell Jones.
Left to cherish the memories of Enoch is his long-time companion, Rosalind Henderson and, his mother, Eugenia Gibson: children: Afryea Gibson, Kahleel Gibson, and Semone Gibson; 2 grandchildren: Ayden Nelson, Samira Turner: siblings John Eric Jones (Dorothy), Regina Faye McDowell (Michael), Tangela Gibson Walton: uncles and aunt: Jerry and Margie Jones, Paul Jones, and a host of nieces, nephews, and sisters-in-law.
26 entries.
Enoch, Enoch, Enoch. I can't wait to see you, again!
I miss Randolph "Enoch" Gibson, so much! I miss his calls every morning!
Randy "Enoch" Gibson was such a positive person. He went out of his way to care about others, sharing his strength, wisdom, and love in ways that lifted other spirits even when they were down and out. We will never know how many hearts he touched nor how much love he spread. He was truly unique. Enoch and I use to talk about Jehovah's Kingdom and how we one day were going to be able to play with the animals together and eat the right healthy foods together with no more pain and sickness. Yes, I know he is no longer in pain; he is just sleeping and awaiting the resurrection where I will see him again in Paradise here on earth. However, my heart is still in pain! Thanks to Jehovah, I have comfort from his words at Revelation 21:4 where it says, "He will wipe out every tear from their eyes, and death will be no more, neither will mourning, nor outcry nor pain be anymore. The former things have passed away". I long for that day. Love, Regina Faye McDowell "Stinka"
Farewell Enoch. Your light still shines in us all.
I will miss your silliness!
I will miss your silly self...
RANDY you will be missed. Uncle Paul Jones Love you ❤️❤️
Rest in peace King- you were an amazing man, and an even more amazing Father! You will be missed but never forgotten
My sincere condolences to the family.
The Martins send our condolences to the Entire family with much Love and many Prayers. Randy is a "Force" that is not easily forgotten.
You will be missed by friends and family. No more pain! Rest In Peace my precious friend. Nita
May Jehovah give you comfort and peace. I am so sorry for your loss.
It was truly a pleasure getting to know Randy. His love of people, especially his family, was a beautiful thing to behold. Our thoughts and prayers are with your family!
Enoch was truly a free spirit that left you laughing at something he did or said. He will truly be missed by all family and friends who knew him.
What a funny man! He brought the joy that was needed in this world. God bless his soul. Randy you will truly be missed.
I'm sending my sincere condolences to Randy's family and friends. I pray for your peace in the midst of this storm.
Randy you were always a light that shined so bright in our family!! We will truly miss you!! Rest easy my cousin!! Job well done!!🙏🏽🙏🏽
Dear Unc. I am so sad to know you are gone. You were the fun and funny uncle. Cracking jokes all the time. You were full of joy all the time. I'm going to miss you. Thank you for your love and kindness. Rest well Enoch aka Uncle Randy.
Visitation:
Saturday, November 21, 2020 at 10:00 AM
McCoy and Harrison Funeral Home, 4918 Martin Luther King Blvd., Houston, Texas 77021
Funeral Service:
Saturday, November 21, 2020 at 11:00 AM
McCoy and Harrison Funeral Home, 4918 Martin Luther King Blvd., Houston, Texas 77021
Interment:
Private