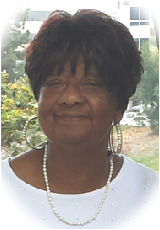 Johnetta Green Douglas Matthews
March 25, 1944 – March 22, 2021
Johnetta Green Douglas  Matthews was born on March 25, 1944 to  the  late  Carrie Lee Cooper Green and the late Clarence Green in Shreveport,  LA.   She was the 4th  of 8th  Children.   She attended  school  in  Shreveport, LA and graduated from Bethune Junior and Senior High School in 1962.
 On September 26, 1962, she married the late Marion Douglas and moved to Houston, TX.  To this union two  children were adopted (Aaron and Cynthia Douglas).
 She  worked  for  many  years   in the late 60's as a elevator operator for Hogan Allnoch.   Later, she was employed as the head cook for the Headstart Center in third ward.  In the early 80's she worked very diligently as an Entrepreneur by selling fashionable clothing, jewelry and much more from her Boutique called: Centralaire.   Johnetta was such a lovable and caring person who helped anyone she knew.  She later became a Home Care Provider for Girling Healthcare System.  During here retirement years, she decided to become a foster parent with DePelchin  Children Center here in Houston.  She had her own family daycare in her home where she took care of all her nieces and nephews along with her great-nieces and nephews for many years.  She made sure that they had a balanced meal  everyday along with her foster children and made sure their homework  was done before she allowed them to enjoy playtime.
On August 4, 1991, she married the late Clifton J. Matthews, Sr. and to this union a baby girl named Egypt Nicole  was adopted.
 Johnetta accepted Christ at an early age and was baptized in Shreveport, LA.  For many years she attended the Catholic church with her husband.   In 2010, Johnetta joined the Greater Outreach Missionary Baptist Church under the leadership of Pastor Kenneth Eakins, Sr.  She was a faithful member of the Sunday School and the Motherboard. She also cooked breakfast for the children after Sunday School for many years and was a big supporter of the Youth Department.  She loved and adored her Pastor and 1st lady.
 She was preceded in death by her parents: Carrie Lee & Clarence Green, one sister: Lee Alice Bolden-Brown, one brother: Clarence Green Jr., both  of  her  husbands:   Marion Douglas & Clifton J. Matthews, Sr. and one adopted son:  Aaron Douglas.
 She leaves to cherish her precious memories:  two adopted daughters: Cynthia (Glen) Ford of San Diego, California, Egypt Nicole Douglas; two sisters: Elisa Bea (Arthur) Ringo of Chicago, IL and Theresa Kimble (Dr. Calvin Kimble) of Shreveport, LA; three brothers: James Henry Green, Alvin Ray (Shirley) Green, and Charles Henry Philyaw all of Shreveport, LA., one sister-n;-law:  Vivan Melvin; three brother-n-laws: Earl and Calvin Matthews from LA, and Ricky (Corliss) Matthews from here in Houston, TX and a host of nieces, nephews, great nieces and nephews, other family and friends who loved her dearly.
Wake:
Friday, April 2, 2021 from 6:00 to 8:00 PM
McCoy and Harrison Funeral Home, 4918 Martin Luther King Blvd., Houston, Texas 77021
Funeral Service:
Saturday, April 3, 2021 at 11:00 AM
Greater Outreach Missionary Baptist Church, 6525 Northdale St., Houston, Texas 77087
Interment:
Monday, April 5, 2021 at 1:00 PM
Houston National Cemetery, 10410 Veterans Memorial Dr., Houston, Texas 77038