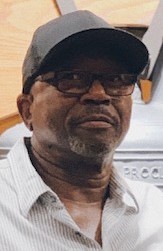 John Walls
February 25, 1948 – August 25, 2023
Memorial Service:
Saturday, September 9, 2023 at 2:00 PM
McCoy and Harrison Funeral Home, 4918 Martin Luther King Blvd., Houston, Texas 77021
9 entries.
John Walls you are a good man. I remember our conversations in the shop as if you were standing beside me today. If we spoke about the job; sports; cars or just life; our conversations were good. Sometimes we even smiled and laughed about what ever we were talking about. Rest in peace John Walls … Know that I and many others will remember you as a good man forever.
To Willie, Morgan, Teigan, and the rest of the family, our thoughts and prayers are with you during this time of bereavement. May you R.I.P. Mr. John. Our grandbaby, Teigan, always said that she had the Paw Paw in the world.
John was a great man with a kind soul. My Prayer go out to his wife and daughter and family. We worked together at Sperry for many years, had many conversation over the 20 plus year working with him. He will be missed.
I am saddened to know my friend has died, John was a kind, compassionate, mentor to me at Sperry-Sun he had a meaningful way of teaching, not only about work but also about life outside of work, his humor and his smile will live on in my memories.
When I started with Sperry Sun back in 1996, my first position I was given was working in EWR Match with Mr. Walls. I was so nervous and overwhelmed my first day, but John slowly explained things to me and showed me what to do. He taught me the ropes of how things worked and how things went together. He was always patient and calm, no matter what the situation was or question I asked him. I learned quickly from him there where 4 things he loved deeply. His wife Willie, his daughter Morgan, Boxing , and his Houston Rockets. When he spoke of these things you could see it on his face how much these thing meant to him. Oh and 1 more thing he loved, and that was play domino's at break and lunch with the guys. I learned the word Slop Jaw I had never heard that before in my life. He hated losing but as we know we cannot win them all. John never asked for anything and was very respected within our beloved working team. I hate that I will not be able to see my friend again along with the other people that knew and loved John. I would not be where I am today with in this organization if it was not for John taking time and showing me how it was done. He would always say it should be done the right way, same way every time, and cover your butt because no one else will. John was one of our few remaining SPERRY LEGENDS and it hurst me to say god bye to him.
To Willie, Morgan and all the family of John we send our prayers and condolences to you that the Lord will keep you in perfect peace as you go through
John was a wonderful person and a great co-worker and friend. I worked with him for many years up until he retired. I will always remember our conversations and the great stories he told. He was very proud of his family. RIP John. You will be missed but never forgotten!
John was such a great man with the kindest soul. I worked with him for many years at Sperry. He will be missed. Sending my deepest sympathy to his family & friends.. You will all be in my thoughts & prayers.
John was a great guy. I enjoyed working on any projects he was involved in. He will be missed by his friends and family. My prayers go out to his family.