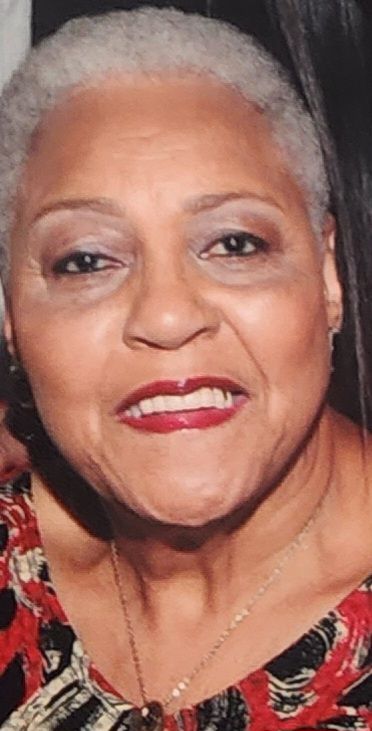 Hazel Fonsworth
October 20, 1928 – March 14, 2023
Wake:
Friday, March 24, 2023 from 3:00 to 5:00 PM
McCoy and Harrison Funeral Home, 4918 Martin Luther King Blvd., Houston, Texas 77021
Funeral Service:
Saturday, March 25, 2023 at 10:00 AM
McCoy and Harrison Funeral Home, 4918 Martin Luther King Blvd., Houston, Texas 77021
Interment:
Saturday, March 25, 2023 – Immediately following the funeral service
Paradise North Cemetery, 10401 W. Montgomery Rd., Houston, Texas 77088
23 entries.
I MISS YOU MAMA, MY HEART IS FOREVER BROKEN. NOT A DAY GOES BY I DON'T THINK OF YOU. I'M IN MY CHAIR JUST BROKEN. YOU WERE EVERYTHING TO ME. I MISS YOUR PRESENCE SOOOOO MUCH. TO GOD BE THE GLORY.
Wanted to say to Mrs Hazel I remember all the wonderful dinners at your home. You were so very kind and loving to me. Even though I might not have been around much lately you never left my heart. Rest in Peace my love. Never forgetting you. Love forever, Sharon
I'm so very sorry for the family's loss. While I never had the pleasure to meet Hazel. We are descendants from the same family tree. Our great great grandfathers were brothers. It's amazing how social media has connected us and allowed us to share many family stories and memories from our ancestors. Hazel's legacy and roots in the family will live forever in the hearts of all who were touched by her life and her love. Rest in Paradise for it's your time. His lord said to him, "Well done, good and faithful servant; you have been faithful over a few things, I will make you ruler over many things. Enter into the joy of your lord." Matthew 25: 23
My heart, thoughts and Prayers are with the family. Of who I have known for many years. You were a beautiful soul on earth. Now a angel in heaven. I love you and my mind is not the same since you left us. Rest in Heavenly Peace my love ❤️
I' m sorry for your loss. I am praying for your comfort and strength. Daughter of Delilia McGowan
We are sending our condolences and praying for the family. The Dimerson Family of Marlin, Texas. The grand and great grandchildren of Delilia McGowan
From Rosie's 12 children . So sorry for your loss.
The Hayes family sends their condolences. This condolences to the family of our mothers Cousin.
What a beautiful life presence. I am good friends with your cousin, Laura. I pray your transition is peaceful, and your strength will stay present for all still on this earth, as you join the joyous company of angels. Also, you shared a birthday with my own Daddy, who was born two years to the day before you. You know what they say about us Libras: we may be a handful, but we're worth it. May your soul rest at peace.
Are condolences to the Fonsworth family. We thank God we had the chance to spend some time with her. Cousin Hazel had a beautiful soul. Are prayers are with each and every one of you. Love, the Jefferson family.
So sorry for the family' s Loss. What a blessing to have cousin Hazel in the family in her life time. I am sure she is living many precious memories The Russell's
My sincere condolences to the family. I did not have the pleasure to meet Mrs. Hazel Fonsworth, but I have known her cousin Laura Ward Holliday for 25 years! And I absolutely adore Laura. I wish I'd the pleasure to have met Mrs. Hazel! May she rest well and in peace! I hold the family in loving light!
I hate that we didn't get to meet on this side but we will meet again cousin. Rest well.
Dear Ms. Hazel, even though I didn't grow up as part of the 38th street village. I felt as though I did though your daughter Arnelia. She would always tell me what a great inspiration to others you shared your life so willingly with and the sacrifices you made for them and your family. The joy you brought them will never end and one day you all will be together again! Though you will be missed we know You are with Jesus and those who have gone on before you. Thank you for being a great Mother to my friend! Condolences to all your children, their spouses and all your grandchildren, great-grandchildren, nieces and nephews. May you rest in God's arms Ms. Hazel.
What can I say about a sassy classy lady? Perfection is what you were🤷🏾‍♀️ You always had it going on. Always had a beautiful home. Should I say A magnificent home like in a Better Homes magazine🤗 My heart has been broken once again🤦🏾‍♀️ words can explain the feeling of mixed emotions that I'm having. You have been a major matriarch of this family for a Mighty long time and you will truly be missed. I thank you for allowing me to be a part of your life. Thanks for always loving me. You will forever remain in my heart💞 As You Walk Around Heaven meeting and greeting all of the loved ones who have gone on before you. If you happen to run into my mama tell Helen I love and miss her so much💔 Until we all meet again. May you both rest in perfect peace.🌷😇🌷 God saw that you were getting tired and there was no cure. So he wrapped his loving arms around you and Whisper sweetly in your ear and said "Hezel" come go with me. With our eyes filled with Tears 😭 as you depart this earth. Although we loved you so dearly and wanted you to stay. God would not allow you to stay🤷🏾‍♀️A Golden heart💘 has stopped beating,🤦🏾‍♀️ Your working hands are now at rest. God broke our 💔 to let us know he only takes the best🌹 May you forever rest in "Perfect Peace" I hope and pray🙏🏾 the Lord allows the family peace, comfort, and understanding of his will😇 Auntie Hezel until we meet again... I'll love you for life😇 🌷 💞 💔 🙏🏾 🌹 💘 😭 😇 Jo'Ann🌷💜
Today we celebrate the crowning of God's latest Angel to get her Wings "Hazel Fonsworth". I'm part of the 38th street legacy who experienced the village reach of Ms. Hazel. Ms. Hazel was a mother to all the neighborhood kids. A true woman of integrity and grace. You just knew walking down 38th street that Ms. Hazel was watching. Without saying a word, she would always lend that smile that said "I'm watching, be good". No one dared to look twice or even question her presence. The beauty of the regal statuesque woman was a bit intimidating which made us all respect her presence. Those were the days of the village, and Ms. Hazel was a part of the village that influenced the greatest in her family and beyond, a true jewel. Thank you, Ms. Hazel, for being there for each of us, even when we didn't know you were watching. She will aways be a part of the 38th street landscape even though she moved away years ago. "Those were the Days"! To the family, I speak for the entire 38th street, Eula Mae Jones Clan when I say, "So very sorry for your loss". Rest with the Angels Ms. Hazel! Sonya Dale Hunter-Reed
Hello Beautiful There are no words to describe what I'm feeling right now...really missing you a lot. I just want our family to know that we will get through this together one hug, tear and burst of laughter at a time. -Millicent
Hazel, Everything is going to be alright. I miss you very much. -bug
Hazelaqqqqqqqqqqqqqqqqqqqqqqqqqqqqqqqqqqqqq
Hazel, My heart is absolutely broken, soul aching and the tears won't stop falling. They cover my face every time I think about or say your name. I am Broken! I wasn't ready and still not ready to let go. What do we do? Who do we call now? It's always been you. On the morning of the day no one wants to remember, I knew I was about to break. I started saying something corny trying to make you feel better and in the end you made me feel better. That moment is forever etched in my mind and branded in my Heart. Although you were fighting to breathe and in obvious pain, you locked eyes with me and without a single word or complaint, you let me repeat that corny statement 2 to 3 more times. I have never experienced such loving patience and selflessness. You knew my tears were but moments away. I will never forget your "no ordinary, smiling eye's" smile. In addition to missing your smiling eyes, unconditional Love and so much more, I will never forget your wit and will forever miss your Good Trouble! I'm smiling right now. Hazel, with my arms stretched wide open, I'm ready to sacrifice the rest of my natural born life to breathe for you, if you would just come back. The tears are falling again. We are cousins, yes, but some 53 years ago when lil momma took her last breath, you were there. You stepped right in, without hesitation to help nurture and guide 6 year old triplet siblings and their mother with love only you could give while raising your own family. At that moment you became our cousin-grandmother, thank you. You have always been our Bridge Over Troubled Water and always will be. Rest well my Beloved. You've been sending up timber for a long time, well done. I love and miss you terribly. Michica