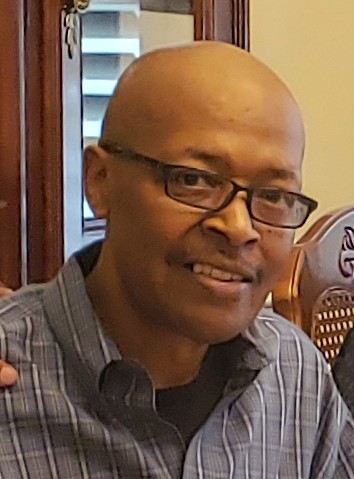 Gordon Edwards, Sr.
September 12, 1959 – October 18, 2020
(Click the image to view the full program)

GORDON EDWARDS, SR. 1959 – 2020
Gordon Edwards, Sr. passed away on Sunday, October 18, 2020 in Sugar Land, Texas. He was born on September 12, 1959 to George and Dorothy Edwards.
Gordon was born in New Orleans, Louisiana and raised in Gloster, Mississippi. He gave his life to Christ at an early age and was baptized at Gloster First Baptist Church where he worshiped and served as superintendent of Sunday School.
Gordon was a quiet, intelligent child who enjoyed reading and thinking by himself. Gordon enjoyed sports and, always lean and mean, played linebacker for the Amite County Training School football team.A fond memory of one sister was all the times they played football together. He graduated from Amite County Training School in 1977 as Salutatorian of his class.  Gordon graduated from the University of Southern Mississippi in 1981 with a B.S. in Computer Science. He used his talent for computer networking at several companies traveling around the U.S and the world. Gordon started his career at Texaco and finished his career at Bechtel.
After fighting for several years, Gordon concluded his extraordinary battle with cancer on October 18, 2020. Gordon's doctor proclaimed that he outlived all expectations.
Waiting in Heaven to greet Gordon are his parents and brothers, Sergeant Percy Edwards (U.S. Army Retired) and Kardel Edwards.
Left behind to cherish his memory are his sons, Gordon II, Michael Anthony, daughter, Maya Terese, grandson, Gordon Edwards III, brothers, George Jr. (DeBra), Joseph (Barbara), sisters, Dorothy (Dennis) Cox and Theresa (Robert) Jackson, and a host of nieces, nephews, cousins, and other relatives and friends.
11 entries.
Sorry to hear of the loss of your love one who is my fellow classmate (Class of 1977). Just know that Earth has no sorrows that Heaven can't heal. God does all things well. Look to God when you are struggling with the lost of your father, brother, uncle and/or friend. God is able to keep you. Gordon is in Heaven with his new body (one that is better than the one he had in his football years) where he will experience no more pain, nor sorrow. He will be missed. Rest in Peace Gordon.
it was great working with Gordon and meeting him when I visited the Houston office at Bechtel a few years ago. My thoughts and prayers to the family during this time. Rest in Peace Gordon.
I was luck enough to work with Gordon. My thoughts and prayers are with you and your family. Rest in Peace Gordon.
Mr Gordon. It was a pleasure to have met you while working for Bechtel. Thank you for all the memories and your extraordinary attitude towards life. May you rest in peace my friend.
To the Edward's family, I am sorry for your loss, just remember God is forever by your side, so remember the good times and remember God is love, so family stay together in love
My dear GE, RiP GE I will miss you forever. We should go out for your birthday but you were too sick but you don't tell me why I keep calling and text you but no respond then I google search found out your name. it is hurt me so bad for how many years we together on/off Miss you my love Thuy
My prayers and thoughts are with my nephews Gordon and Mike, my sister Debra and the Edward family during the loss of y'all love one. May God give y'all all the strength y'all need through this difficult time. Gordon will be missed by many. R.I.P.
My prayers and thoughts are with my nephews (Gordon,Michael) sister Debra and the Edwards family during the loss of your love one. May God give y'all strength through this time. Gordon will be missed by many. R.I.P.
Praying for my nephews, sister and Edward family during this time of sorrow. Gordon I will always remember the good times we had together as we grew up together from teenagers. RIP brother-n-law.
To my family we are praying that God will give us strength, In the book of Jude Now onto him who is able to keep us from falling We will see you all on the 31 at the service
Debra, Gordon II and Michael I am praying for strength for you all during this time of bereavement.
Visitation:
Saturday, October 31, 2020 at 9:00 AM
McCoy and Harrison Funeral Home, 4918 Martin Luther King Blvd., Houston, Texas 77021
Funeral Service:
Saturday, October 31, 2020 at 11:00 AM
McCoy and Harrison Funeral Home, 4918 Martin Luther King Blvd., Houston, Texas 77021
Interment:
Wednesday, November 4, 2020 at 11:00 AM
Woodlawn Cemetery, Gloster, Mississippi