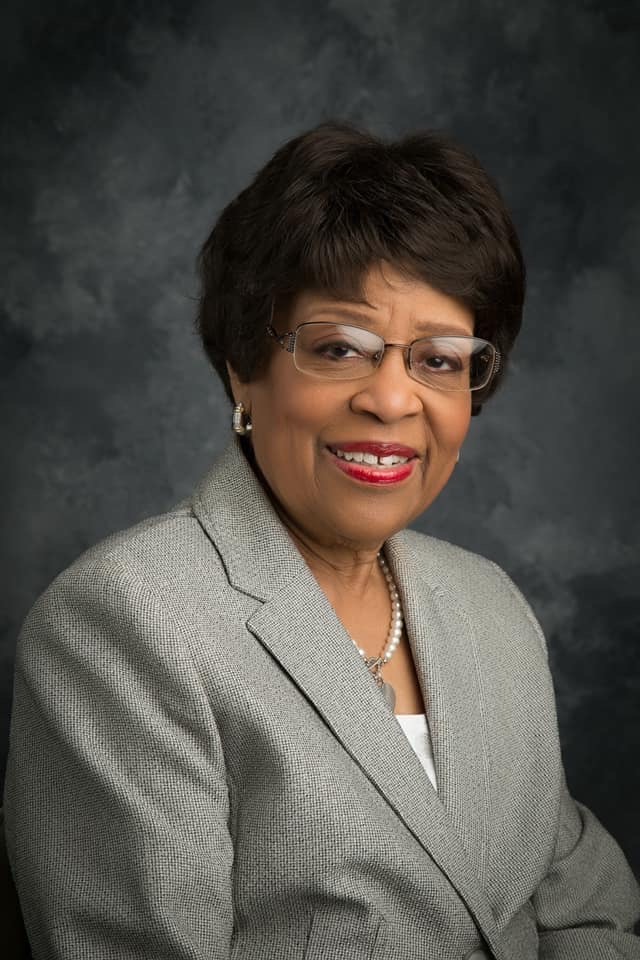 Faye Bryant
March 15, 1937 – February 20, 2020
Faye Beverly Bryant was born March 15, 1937 in Houston, Texas, the youngest daughter of Willie Bryant and Malinda Edmond Bryant. As a child, Faye and her sister Barbara grew up attending Wesley A.M.E. Church wherein Faye remained a faithful member until her passing. Faye attended Blanche Kelso Bruce Elementary, E.O. Smith Middle School and graduated 2nd in her class from Phyllis Wheatley High School. Her early experiences in the public schools in Houston, Texas and participation in the Girl Scouts, Camp Fire Girls, YWCA, and church groups made an indelible impression upon her life.
She enrolled in Howard University, where her love for involvement with groups that help women and children was fueled. At Howard, she became a member of service and academic clubs and followed in her sister's footsteps when she was initiated into the Alpha Chapter of Alpha Kappa Alpha Sorority, Inc. in 1955. Faye graduated from Howard University with her B.A. degree in Political Science & Government in 1957. She returned to Houston and earned her Master's degree in Counseling and Guidance from the University of Houston.
Faye began her professional career working as a Program Director at the Blue Triangle Branch of the YWCA. In 1960 she became a teacher in the Houston Independent School District (HISD). After teaching at Booker T. Washington High School and serving as a counselor at Bellaire High School, Faye worked as the Director of Magnet Schools for the Houston Independent School District. Faye was instrumental in establishing the Magnet School program within the school district and considered it her legacy to the school district. She was later hired as the Deputy Superintendent of Human Resources and in 1998, she became the first African American to serve as Deputy Superintendent for School Administration in the Houston Independent School District. She also served as Interim Superintendent of HISD.
Faye had an indisputable commitment to leadership and her love for people was evidenced by her contributions in community and service organizations in top leadership roles, serving with distinction at local, state and national levels.
She served as the Third National President of the Top Ladies of Distinction (TLOD) from 1975 to 1979. Her administration theme was "TLOD: Shapers of Change – A Continuing Commitment". Under her leadership, the organization's National Membership Program was initiated, the first Top Teens National Scholarships were presented, and the National Council of Negro Women (NCNW) was added as an affiliate of TLOD and nine chapters were chartered.
Faye served as the 12th South Central Regional Director before becoming 21st International President of Alpha Kappa Alpha Sorority, Inc., from 1982 to 1986. Under her leadership the sorority's agenda became Programs of service, Organizational impact, Women in global issues and Economic development and Renewal, or P.O.W.E.R. Faye's administration sought to improve communication with individual members by approving cluster meetings where sorority members from various chapters could convene. In addition, she initiated a governmental relations team to represent the Sorority at various government affairs and added the Connection Committee to the Sorority's list of programs —and organized new voter registration for the 1984 U.S. Presidential election. During her tenure, Faye continued construction on the Sorority's corporate office and initiated the African Village Development Program in collaboration with Africare.
Faye served as the National co-Chairperson of Assault on Illiteracy, Chairperson of Women's Power Commission of The Links, Incorporated, and was named by Ebony Magazine as one of the "100 Most Influential Black Americans" (1984-1986).
In 2002, Faye retired from HISD as Executive Deputy Superintendent for School Support Services after forty-two years of service. It became very clear that her professional retirement meant she would be able to dedicate her time and positive energy to her other organizations, and to enjoying time with friends and family. Faye was a true trailblazer, both in a career that was her passion, and within the organizations she belonged to, led and loved.
She has received many awards and honors and is listed in Who's Who in Black America. Texas Southern University awarded her the Meritorious Community Service Award. The Houston Area Alliance of Black School Educators honored her as a "Living Legend" and Howard University awarded her the Outstanding Alumni Award. In 2010 Alpha Kappa Alpha Sorority, Inc. honored her with the Carey B. Preston Leadership Award for exceptional leadership to the sisterhood and mankind. She was appointed by Mayor Bill White and completed a six-year tenure as a Commissioner on the Houston Archeological and Historical Commission in 2011.
The Board of HISD honored her as a "Living Legend" during Black History Month in 2011. In 2013 she was named a Pillar of the Community for Leadership and Outstanding contribution to the Houston African American Community by HESP/AFT Union-Local 6315. She is a former Board Member of the HISD Foundation and the Linda Lorrell Scholarship Fund, and at the time of her passing was Chairman of the Board of Directors for Region IV Education Service Center, representing districts in Central Harris County.
Faye's life was undeniably service-focused as evidenced not only her professional career, but from her leadership positions in international service organizations, her service on local community boards, and by organizing and leading programs in her beloved Wesley A.M.E. church where she was a member of the M.E. Rickmeyer Women's Missionary Society. She was awarded the Richard Allen A.C.E. (Action, Courage & Excellence) Award during the church's 135th Anniversary Celebration.
Faye enjoyed travelling and was the consummate international traveler–travelling both within the United States and around the world — taking trips to Africa, Asia Central America, Europe, the Middle East, as well as vacations in California and metropolitan Washington, D.C., not to mention the occasional cruise – always experiencing life to the fullest, with style and grace. "Faye B" enjoyed attending church programs, sorority events, and area and regional conferences held by the organizations to which she belonged. She never missed an opportunity to spend Thanksgiving holiday visiting her sister Barbara's home with their close friends, Marva Adams, Imogene Felder, Polly Turner and Joy Bryant. She loved the holidays and always enjoyed hosting Christmas holiday gatherings with her family here in Houston.
Faye leaves to celebrate her life, her older sister, Barbara Solomon (Donald); nephews E. Jerome Solomon (Adriene) and Jeffrey Solomon (Lisa); her niece, Marcia Solomon Hawkins (Jonathan), the nephew she reared as her son, Arnold Cotton (Felicia); grand nieces and nephews Jessica, Tyler, Victoria, Roland, Alexis (Solomon), Ilana, Solomon (Hawkins), Ambur Cotton, Nona Eath, Zoe Jones and a host of extended family and friends. The family would like to thank several individuals who have been such a blessing to Faye and to us: Karen Edwards, Joy Bryant, Dorothy Booker, Anja Llorens, Deborah J. Hill-Burroughs and Larry Eath.
Visitation:
Friday, February 28, 2020 from 1:00 PM to 5:00 PM
McCoy and Harrison Funeral Home, 4918 Martin Luther King Blvd., Houston, Texas 77021
Wake Service:
Friday, February 28, 2020 from 7:00 PM to 9:00 PM
Wesley Chapel AME Church, 2209 Emancipation Ave., Houston, Texas 77003
Funeral Service:
Saturday, February 29, 2020
Visitation at 8:00 AM
Alpha Kappa Alpha Sorority, Incorporated will hold the Ivy Beyond the Wall service at 9:00 AM
Memorial Service at 10:00 AM
Fountain of Praise, 13950 Hillcroft, Houston, Texas 77085
Interment:
Saturday, February 29, 2020 – Immediately following the funeral service
Paradise North Cemetery, 10401 W. Montgomery Rd., Houston, Texas 77088
1 entry.
Sincere thoughts to the family as we celebrate the beautiful life of one who meant so much to all.