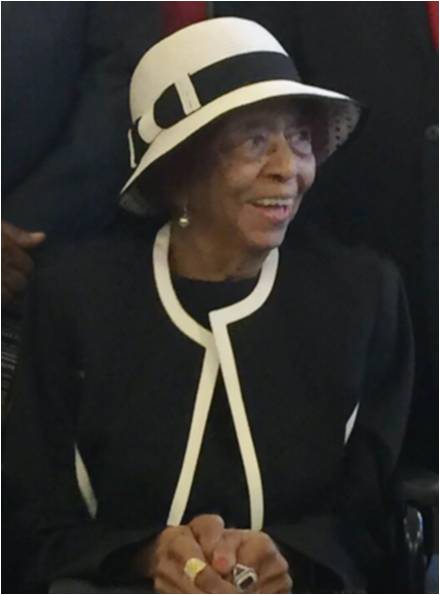 Emma Lee Dickson Major
June 7, 1922 – April 10, 2020
Emma Lee Dickson Major, at the beautiful age of 97 years, passed and ascended with the angels on the morning of Saturday, April 11, 2020 at the Orchard Memory Care Assisted-Living Home near Houston, Texas.
Emma Lee Major was a woman of deep faith—grace and quiet eloquence. She was born July 7, 1922 on a family farm in Crabb, Texas (near Richmond). She was the twelfth child of Rev. Charles Dickson, Sr. and Rachel Jones Dickson.
During Emma's early adult years she moved to Houston and married her childhood sweetheart and World War II Veteran, Alvin Major, Sr. They were married for 73 years until his passing in 2018.
Alvin and Emma were devoted parents to five boys. In the late 40's they were members of Antioch Missionary Baptist Church in Houston's historic Freedman Town where Emma sang in the choir. In the early 50's the family moved and became charter members of Blueridge Baptist Church where she sang in the choir and was a member of its sisterhood's Naomi Circle. While doting on her sons development, she enjoyed gardening, sewing, fishing and cooking and was dedicated to civic and community engagement.
In her passing, Emma's circle is unbroken. Celebrating her legacy and cherished memories are her Sons: Alexander Major (deceased), Robert Dickson II (Robbie), Alvin Major, Jr., Alfred D. Major and Ronald Major; Grandchildren: Alexander Major, Jr. (deceased), Alexander Evin Major, Robert Dickson III, Erica Pomares (Kenneth), Natalie Dickson, David Major, Patricia Major and Carla Major; Great Grandchildren: Nasser Amir Sharrieff, Kendahl Whitney Pomares, Jackson Alexander Pomares, PharynEsa Dickson, Inid Fabian Dickson and Boston Hawk Dickson.
The Family greatly appreciate the condolences expressed locally and across the country. For the safety of family and friends, a private viewing and prayer ceremony will be held at McCoy & Harrison Funeral Home on Monday, April 20 from 2:00-3:30 PM and burial at Houston National Veterans Cemetery, where Emma will rest next to her husband, Alvin Major, Sr.
A public memorial concert and service (to be accompanied by the Huston-Tillotson University Concert Choir) is scheduled for Spring 2021 at Blue Ridge Baptist Church.
Viewing:
Monday, April 20, 2020 at 2:00 – 3:30 PM
McCoy and Harrison Funeral Home, 4918 Martin Luther King Blvd., Houston, Texas 77021
Funeral Service:
Monday, April 20, 2020 at 3:30 PM
McCoy and Harrison Funeral Home, 4918 Martin Luther King Blvd., Houston, Texas 77021
Interment:
Tuesday, April 21, 2020 at 9:00 AM
Houston National Cemetery, 10410 Veterans Memorial Dr., Houston, Texas 77038