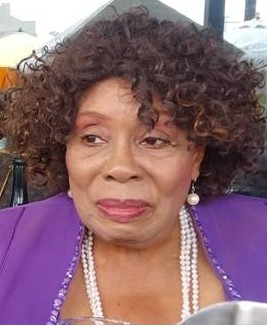 Eloise Baylor
October 7, 1942 – November 26, 2021
Eloise Davis Baylor,  born October 7, 1942 to Mr. and Mrs. Carter and Ella Davis on Mr. Smith's place (farm) just outside Vidalia, Louisiana transitioned to a more perfect life on Friday, November 26, 2021.
Eloise loved people and people loved her. She was the consummate, doting grandmother to grandson, Llarance Terell Turner and granddaughter, Llaran Lachelle (Princess Girl) Turner. She enjoyed  listening to music by Al Green, The Isley Brothers, and of course her down-home blues. She loved men's quartet gospel groups and was an avid Star Wars fan and owned every movie on VHS or CD. Eloise loved playing cards, especially bid whist and spades. She was also the ultimate sports fan. If you were watching a football game with her, get ready for the shouts, and jumping up from her seat. She loved her New Orleans Saints, but Tom Brady was her quarterback.
Eloise was a proud Grambling State University Alumnus and Texas Southern University graduate. Eloise (Weezie) was quite the entrepreneur. She opened a "multipurpose" business in northeast Houston, that prepared taxes, provided notary services, and printing services. For a while, she returned home to Vidalia to assist with taking care of her parents. While there, she opened a janitorial business which offered residential and commercial services. Later, her cousin asked her to manage a small bar/juke joint that he owned named The Houston House. The business went from a small juke joint with a few regular customers to the spot to be in for all ages. She served her famous Weezie burgers, with a choice of one, two, or three alarm seasoning. She expanded the services to selling meals at lunch time for work crews performing road and levee construction, and it grew with leaps and bounds. Eloise retuned to Houston after the death of her mother and the birth of her first grandchild.
Eloise retired from the Headstart Program after more than 15 years of service as an educator and Center Manager, where she was affectionately and respectfully known as Mizzz Baylor.
Eloise had a smile that lit up a room and a heart of gold. Her sharp wit and sense of humor brought lots of smiles and chuckles. Her presence will be missed but the legacy of her memory will live on in the minds and hearts of those of us who love her.
Visitation:
Saturday, December 4, 2021 at 10:00 AM
Riceville Mt. Olive Baptist Church, 11539 S. Gessner Rd., Houston, Texas 77071
Funeral Service:
Saturday, December 4, 2021 at 11:00 AM
Riceville Mt. Olive Baptist Church, 11539 S. Gessner Rd., Houston, Texas 77071
Interment:
Saturday, December 4, 2021 – Immediately following the funeral service
Houston Memorial Gardens Cemetery, 2426 Cullen Blvd., Pearland, Texas 77581
1 entry.
I will miss your cheerful smile at bingo, and loved watching your morning walks. You are now with the Lord and Heaven has another angel to watch over us.