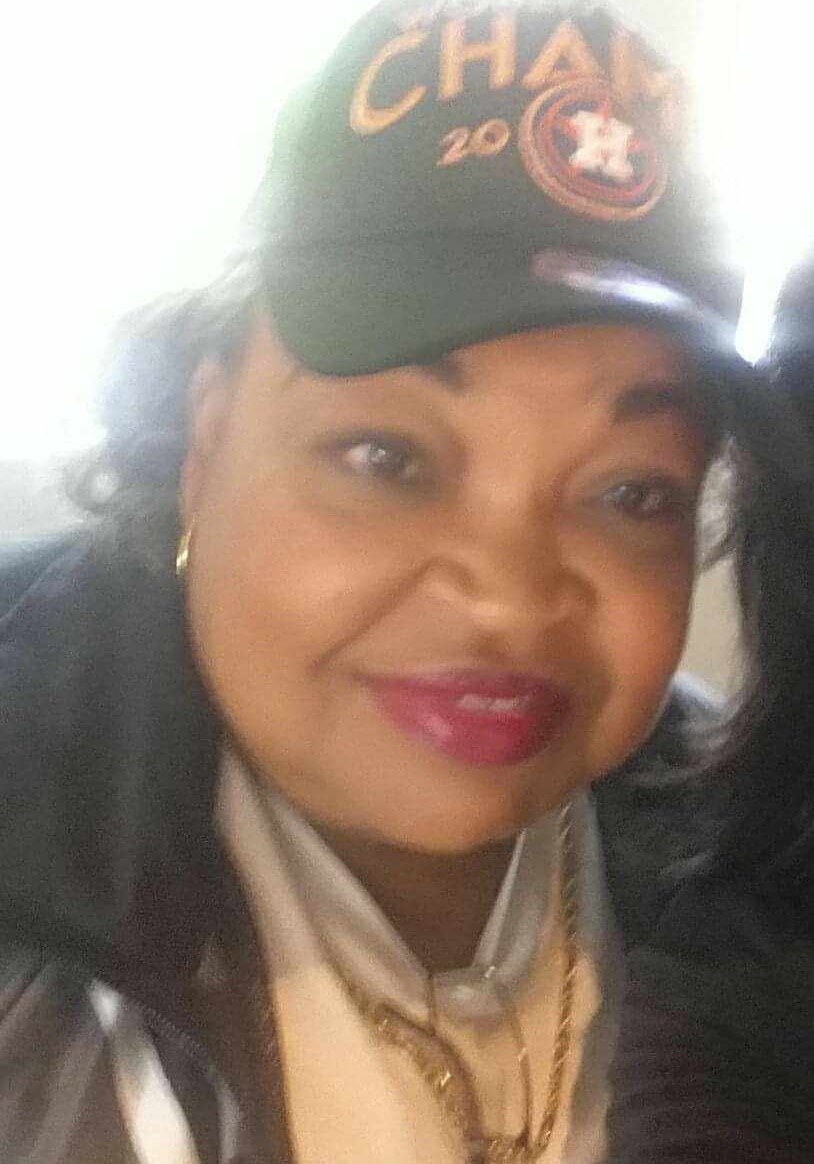 Eleanor Cannon
March 1, 1952 – August 28, 2021
(Click the image to view the full program)

ELEANOR CANNON 1952 – 2021
18 entries.
My Miss thang, I love you and will truly forever will miss you. 😔❤️ You were my box office best friend along with Barbara, we were the trio best friends because of you. Every time I saw you at work in the box office and excitedly called out your name, "Miss Thang, how you doin?" You answered with a smile, Mia!!! Miss thang you always told me to use my inner voice and I would say, this is my inner voice, you don't want to hear my outer voice!!! We laugh about it!!! We had great times together and made great memories going to lunch, dinner, hanging out at the clubs, getting together after work, our phones calls, our chats and any and everything else we did together!!! My Miss Thang loved her animal print ❤️ I will see you you in heaven one day but for now I know you're rejoicing in heaven!!! The box office will not be the same without you. 😥❤️
Continued strength and blessings to the family. To Anita stay strong keep the faith God hasn't and doesn't make any mistakes no matier how we think or feel he knows what's best and he toonly wants what is good we are only here for a designated time so jo'so house was completed and she has moved to her new heavenly home so stay strong to all of you.
Ms Cannon was s very sweet loving person...to see this is hurtful...but to David and the rest of her family I send my condolences & prayers. Rest Eleanor till we meet again
Eleanor, you will be terribly missed!! I loved working with in the Astros Box Office!! I loved our talks & hearing about your adventures with your grandson! I loved writing your addresses for you and simply making you laugh!! May God Bless your Family & I will miss morning texts and emojis the most!! Love you!!!
Sending prayers to the Newby/ Cannon family.Eleanor. I was a classmate and friend since Steven F. Austin Jr. High .Eleanor call us affectionately 'the eastend girls' .I will miss her dearly.Purple & Gold forever. Ball High Class of 1970. Peace be with you my friend.
Ms. C You will greatly be missed, I remember all the days working at the Astrodome, having great times, but this will not end now, I will see you again some day, Ms. C you can now rest in peace, you are another angel ,up in heaven, when you see mom and dad say hello to them, the Lord took another angel with him. Miss you.,until we meet again.
I worked with Eleanor At the Dept of Human Services. Such a sweet person. My condolences.
I remember Elearnor from years ago, when we work at St. Mary's Hospital. Sweet, kind, and alway dress very nice. Her spirit was very interesting and learning new things. She love talking about her children (young ages) and her interesting in college classes. I will alway remember her smile.
Sending prayers to The Cannon family, she is resting in her Fathers arms. To Ms. Anita Newby praying you.
Ms. Cannon you were always so nice to me when I would work with you at the Astros' box-office. you were always so passionate about helping the elderly community you worked for. I always admire you for that hard work and dedication. May you rest in peace.
I have been putting this off, as I am fearful that my words will not be adequate to express my love, respect and abiding affection for Eleanor. As I sit here alone at my desk reflecting upon the Life, passage and homecoming of my dear and cherished friend, sister-in-Christ and colleague, my eyes locate and are fixed upon an encouragement greeting card that I recently received from her. Ever since it's arrival in the mail, it remains taped to the wall directly in front of and above my monitor. I see it again whenever I glance up from my PC. This would have been sent to me after she knew she was ill, her prognosis alarming and with her homecoming preparations underway. I am truly amazed and humbly grateful for her outreach to me despite the enormity of her circumstances at this time. Her extraordinary and genuine love, compassion, consideration and mercy towards everyone that she met, encountered or dealt with along her often traumatic and difficult "Walk of Life" is both a blessing and an inspiration to us all. She remains one of my true Titans, in terms of living, speaking and epitomizing genuine and remarkable love, respect, concern and charity for others. Our Lord did not leave us unaware that we would experience "troubles, trials, tribulations and difficulties" in all our lives – as he warned us about those in the Bible. The good news is He also assured us that we "…should take heart, for we will overcome the world in Christ Jesus our Lord." For me, Eleanor truly embodies that Divine promise. As Jesus "…became flesh and dwelt among us," to die and to pass through death unto resurrection and life to assure our redemption from sin and our eternal salvation. While Eleanor was flesh and lived here among us, she extended the love of God to everyone she encountered. She truly blessed me and so many countless others. As we age, one begins to experience an increase in the number of family members, loved ones or close friends and associates who have embarked upon their respective journeys home. When informed or made aware of one of these homegoings, after seconds of disbelief, the reality of eternity suddenly leaps into our mind. As the first tears began aimlessly meandering down our face, spawning a deluge of memories, thoughts and reflections upon and of the departed and their Life - We confront life and death. A tiny vision of hope creeps in as we realize they have left this oft-described "vale of tears" for eternal life and unlimited joy in the presence of our Lord and Savior Jesus Christ – one utterly devoid of the pullulating hatred, pain, malice and systemic narcissism and selfishness so increasingly typical of this world. During these reflections, I often think of the 23rd Psalm. "The Lord is my shepherd, and we shall never want." Also, by faith we know that He "…will never leave us or forsake us." So, we know that God did not leave Eleanor or her family or those of us who love her and who are grieving, and hurt by her temporal absence. He just wrapped His almighty arms around her and took her home. I am reminded of the refrain from the hymns of old that "SOMETIMES GOD CALMS THE STORM, SOMETIMES HE JUST CALMS ME." I love this thought. God knows our needs! Our Lord has granted all of us certain "gift's" we are to use to encourage, serve and to care for others. For me, one of Eleanor's myriad of gifts was to calm the storms of life engulfing others. On many occasions, she did this for me. With quiet strength, total humility, an abiding and unyielding faith and a wonderful smile and countenance (never reflective nor revealing of her own struggles), she would come alongside to encourage, to comfort, to provide for and to support me in my storms or to arrange safe passage through them. I will miss her immensely and immeasurably until "….….the trumpet sounds and the….dead in Christ shall arise." We shall see each other again that day – healthy and vibrant and joyfully alive. To use her gift so adeptly, Eleanor had to "go through some things." Eleanor strode faithfully through "those things" with calmness, humility, faith and, above all else, pure love. I can only speak of what I witnessed, and I know her burdens were many, her trials frequent and her sorrow profound. One of these trials was seemingly existential and unbearable (to most of us) - yet she prevailed! Remembering that time and reflecting on it now – the pounding pain that no mother of father should have to endure. Yet she continued to manifest her gifts and to love others. The world's great and spectacular feats are wondrously watched, celebrated, remembered and archived away. The love, compassion, charity and kindness exemplified in this world are often in secret, hidden and anonymous. Vividly remembered only by those who received it. However, the former is long forgotten, and the latter will be celebrated in eternal perpetuity in the Heavenly Realm. That's Eleanor's group! I do know that you will RIP, Eleanor. I also know that you are already abiding in the total and immeasurable Joy of the Lord. As the country song says – Go Rest High On That Mountain! Eleanor Cannon is in Heaven for eternity. I am reminded and comforted by the poignant and moving words penned so many years ago by a still unknown but oft inquired about author which sought to reassure and comfort those loved ones who were departing this world. In pertinent part, they read: "To my dearest family, some things I'd like to say, but first of all to let you know that I arrived okay. Please do not be unhappy, just because I am out of sight, remember that I am with you every morning noon and night. The day I had to leave you, when my life on earth was through, God picked me up and hugged me, and he said I welcome you." Thanks for everything, Eleanor. We'll see you once again. If God be willing, and whenever He ordains, we will gather the whole Box Office family to rejoice and celebrate.
Praying that God will give her family comfort and strength during this time in your lives. Her time has come, she ran her race and now she's in a better place. Take your rest and I'll see you later. 🙏🏽🙏🏽💜
She will be missed! A wonderful person whom ibe known for over 50 years! Rest dear friend your journey is done! Sending prayers and condolences 🙏 to the family!
My sincere condolences to the family. My family and I meet Eleanor through her younger sister Anita. We all called her "Ms. Cannon". Right now She is safe resting in God's Arms!
My condolences to the family. Jo will surely be missed. But heaven has gained an angel. Rest my sister REST.
Ms. C you will definitely be missed, I always enjoyed talking to you on those early Saturday or Sunday mornings at the box office. You always had the best advice. Take your rest as heaven has gained another angel. To the family, my sincere condolences. Ms. C always talked about her grandkids and her sons. May you guys find comfort and peace in knowing that she is with the Lord.
In Loving memory of Eleanor Jo Cannon I love you. Rest In Peace. Your cousin Tommie Wimberly.
My friendship with Eleanor started at the Astrodome and through Deborah Ward her niece . Through the years she became my Aunt Jo too. Oh how I will miss her smile, her facial expressions and her thirst for living life to its fullest. RIP my friend! Until we meet again…
Visitation:
Wednesday, September 8, 2021 at 9:00 AM
McCoy and Harrison Funeral Home, 4918 Martin Luther King Blvd., Houston, Texas 77021
Funeral Service:
Wednesday, September 8, 2021 at 11:00 AM
McCoy and Harrison Funeral Home, 4918 Martin Luther King Blvd., Houston, Texas 77021
Interment:
Wednesday, September 8, 2021 – Immediately following the funeral service
Houston Memorial Gardens Cemetery, 2426 Cullen Blvd., Pearland, Texas 77581