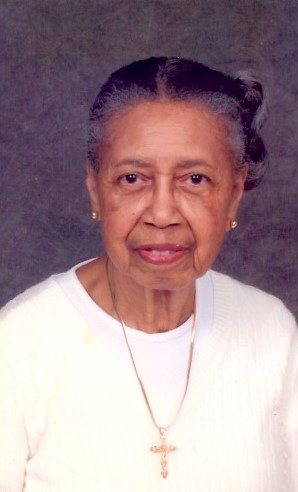 Dorothy Brown
July 30, 1925 – January 22, 2020
Dorothy Mae Dixon Pettit Brown, 94, went to her heavenly home to be with the Lord on January 22, 2020. Dorothy, sometimes called "Dot" was born July 30,1925 to Stella and Ben John Dixon in Lafayette, Louisiana. Prior to her second birthday, the family moved to Houston, Texas. She attended St. Nicholas Catholic School before enrolling at Jack Yates High School. She was very smart and an excellent student who showed great promise. Times were hard for most families back then, so upon completion of the seventh grade, she was taken out of school to help at home. She helped her mother, Stella, with her siblings at home. She sometimes went to work with her mother and the money earned helped with the family needs. She was a member of St. Nicholas Catholic Church until the construction of St. Francis Xavier Catholic Church in the Sunnyside area.
Dorothy was married twice, first to Berry Pettit. The marriage was short lived. She later met and married James Edward Brown and started a life with him. They bought a GI home in the Robinson Addition, in Sunnyside, where they raised their growing family. The marriage lasted nine years, but over time they became the best of friends until his death in 1992.
Dorothy loved her family, and though times were hard, she did what was needed to care for her children. It meant working, sometimes, two and three jobs to make ends meet. She was very industrious. She, with the help of a patron at one of her jobs, was able to get a job at Hermann Hospital. That job launched her career in the medical profession. It was her calling.
She was trained to work in Surgery as a Surgical Technician and was sought after by all the doctors because of her unique ability to remember each doctor's needs as they performed various surgical procedures. She also trained in OB to assist in labor and delivery. She was so smart that she was assigned the responsibility of training and showing the "ropes" to incoming OB Residents. She left that job and enrolled at Franklin Beauty School, where she was tops in her class, and became a licensed beautician. But her friend, the head nurse at Jefferson Davis Hospital's OB department needed additional nursing staff, so she went back to hospital work. She was a part of the group that opened the OB department at the new Memorial City Hospital, where she worked until she retired. She was not finished. One of the OB Gyn doctors that she worked with hired her to work in his office and she sometimes assisted him with deliveries. She helped deliver babies for several celebrities and Houston Astros players (her favorite baseball team).
Dorothy was preceded in death by her beloved parents, Stella and Ben Dixon; both husbands, Berry and James; two brothers and their wives, John William Dixon (Betty). Clarence Dixon Sr. (Lottie Bell); one brother Aaron, who died as an infant, three sisters, Julia Mae Edwards (George), Stella Marie Morrison and Joyce Bell Harris. She leaves to cherish her memory three daughters, Carolyn Sherman (Reuben), Beverly Harris, Gwendolyn Johnson, and one son, James E. Brown, Jr.; three sisters, Janie Alix, Muriel Dixon, Gloria Jean Brinkley (Carl); one brother Richard Philip Dixon Sr. (Dorris); grandchildren, great grandchildren, many nieces, nephews, cousins, friends, neighbors and her walking group "The High Steppers".
There was not a person whom she met that she did not like. She treated everyone with kindness and love and she was loved and liked by so many. Her love for music, singing and dancing will make us all smile whenever we think about her. She loved God and read her Bible daily. Memories of her will last forever.
Visitation:
Saturday, February 8, 2020 at 8:45 AM
St. Francis Xavier Catholic Church, 4600 Reed Rd., Houston, Texas 77051
Funeral Service:
Saturday, February 8, 2020 at 10:00 AM
St. Francis Xavier Catholic Church, 4600 Reed Rd., Houston, Texas 77051
Interment:
Private
1 entry.
Beverly, I extend my deepest condolences to you on the loss of your Mom. I pray that God will continue to strengthen you and the entire family. Just know that your Mom's beautiful legacy is an inspiration to us all. God Bless you!