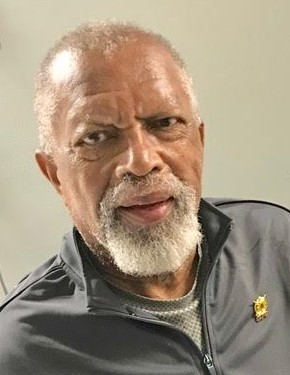 Charles Coleman
October 24, 1939 – December 18, 2020
On December 18, 2020, Charles "Charley" Coleman, our beloved hero, partner, father, mentor, and friend, passed away peacefully at home with his wife and daughters by his side. He lived a life of layers, full of experiences, people, and places he only dreamed of as a boy.
On October 24, 1939, Charley was born in Dallas, Texas, to Mabel and Charles Coleman. He attended public schools in South Dallas and graduated from Lincoln High School in 1957. In the fall of that same year, he accepted a baseball scholarship to Texas Southern University in Houston, Texas. In 1961, one year before graduating with a Bachelor of Science degree from the Industrial Arts School, he married Deniza "Dee" Houston. To this union, two beautiful daughters were born: Cathryn Lynnette and Shannon Diane. Although Charley and Dee's marriage ended in 1974, they remained lifelong friends as they continued to be devoted parents to and exemplary role models for their daughters.
During the early days of his marriage, Charley began a distinguished career in the United States Air Force. Recruited to attend the United States Air Force Officer Training School (OTS) at Lackland Air Force Base (AFB), he completed his training with distinction. Tours of duty took him to Chanute AFB in Illinois, George AFB in California, several bases of The Royal Thai Air Force in Thailand, Tinker AFB in Oklahoma, and Gunter AFB in Alabama. During his military career Charley served four tours of duty in Vietnam and concluded his twenty-year service to the Air Force with the rank of Major at Langley AFB in Virginia. When he retired from the Armed Services, he was fortunate enough to apply his military experiences and knowledge as he worked with defense contractors in the private sector. In 2000, he retired permanently from active employment.
After being a bachelor for more than two decades, Charley met Dr. Linda Brown; they were married in 2001. Because Linda has four daughters, Charley's family grew exponentially with the addition of these daughters, sons-in-law, and grandchildren. Charley and Linda enjoyed many life-enriching experiences and regularly hosted wonderful blended family gatherings.
Charley was not one to sit on his laurels. While retired, he was invited to be a member of the Fort Bend Appraisal Review Board. Charley was a diligent member for six years.
Charley had three main hobbies. First, he loved raising and spending time with his beloved dogs. Four faithful canine companions come to mind: Homey, Souleaux, Sugar Ray, and Parker. In addition, he loved playing golf. He spent many days with friends golfing at Hermann Park as well as Wildcat and Quail Valley Golf Clubs. His travel plans always included a round of golf. Third, fishing also consumed a lot of his time. His fishing expeditions with friends and family took him to such locations as the banks of the Occoquan River in Lake Ridge, Virginia, and the West Bay in Galveston, Texas.
Charley was preceded in death by his parents, Mabel and Charles Coleman. He is survived by his wife of 19 years, Dr. Linda Brown Coleman; daughters Cathyrn Coleman (Houston) and Shannon Coleman (Plano); his first wife, Deniza Coleman (Houston); Linda's daughters Kecia Foxworth, MD (Plano); Kendra (Reginald) Mhoon PhD (Missouri City); Korie Brown PhD (Houston); Kaylan (Joseph) Henderson MPH (Houston); grandchildren Brent and Lauren Foxworth, Olivia, Reginald, Jr. and Matthew Mhoon, and Marquis and Avery Henderson; numerous cousins as well as extended family, and lifelong friends too numerous to name.
Charley left it all on the field. He was good to go.
In lieu of flowers, the family requests donations be made in Charley's name to the Houston Area Parkinson Society (H.A.P.S.) or an organization of your choosing.
Visitation:
Thursday, December 24, 2020 at 10:00 AM
McCoy and Harrison Funeral Home, 4918 Martin Luther King Blvd., Houston, Texas 77021
Funeral Service:
Thursday, December 24, 2020 at 11:00 AM
McCoy and Harrison Funeral Home, 4918 Martin Luther King Blvd., Houston, Texas 77021
Interment:
Monday, December 28, 2020 at 12:30 PM
Houston National Cemetery, 10410 Veterans Memorial Dr., Houston, Texas 77038
7 entries.
I was very sorry to come across this obituary. I worked with Charlie for many years at tgBauer Associates in Virginia and he was my regular racquetball partner, we played many games against one another. We also played some softball together. I lost track of Charlie when he told me he was taking a job overseas in Germany in the mid to late 90s. I always wondered if he came back and where he was. I am happy to see he remarried and had happiness in his life. RIP Charlie Coleman
Charles was an older cousin/brother to me. His mother and my father were siblings. When I was a little girl, he was never too busy to take time with me when I came to visit. Sometimes it the little things that mean so much. I always looked up to him and as we grew up and he went away, he was always my favorite cousin/brother. He will continue to have a special place in my heart because he was always special in how he treated others.
Linda and family. We are so very sorry for your loss. What a fine man. Charley was the true example of an American and a Gentleman. We know he is in heaven now. We send you all our prayers and love. Ron and Debbie and family
Charley was a fellow classmate at Lincoln High School. We were fellow cadets in the first Junior ROTC program at the high school. He was a sharp cadet and very smart student. We attended different universities, but chose the same career field— the US Air Force and commissioned as officers. Our career paths were similar. We were fortunate to serve at Air Force bases in Alabama at the same time. Charley was stationed at Gunter and I was at Maxwell. Our friendship was renewed and our families were close. Our love for dogs enabled us to breed our first pets. Although our tours ended in Alabama, we continued our friendship and communication. Our paths crossed again in Virginia with Charley in Lake Ridge and I with family in Manassas. I respected his opinions and enjoyed our conversations. My family and I will sorely miss Charley and have his family in our prayers. God bless his soul. Rest In Peace my brother. From the Griffins: Hudson, Silva, Hudson III, and Nicole.
Linda and Family who have my deepest sympathy and condolences. Charlie was a great person and gentleman. I will always remember him as being a kind and funny person.
Charlie will be missed by all that knew him. My sincere prayers are for the family.
Charlie will be missed by all of us neighbors who knew him, enjoyed his sense of humor and played a few rounds of golf with him. A fine and accomplished man. Thank you for your service.