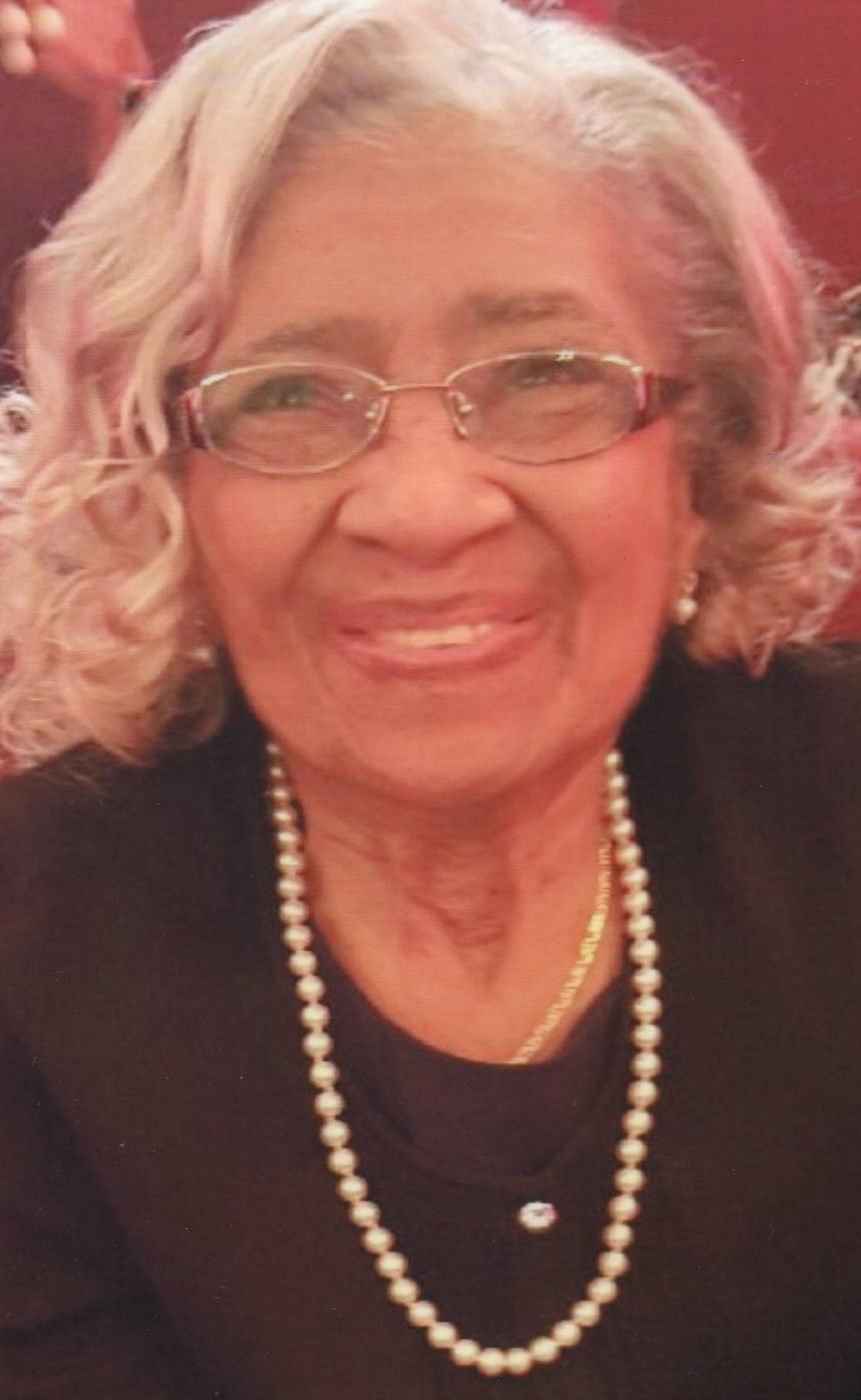 Bessie Lillian Taylor
February 19, 1924 – March 28, 2020
Bessie L. Taylor was born February 19, 1924 in Boyce, Louisiana to the late Joseph and Cordelia Jones.She was united in holy matrimony June 28, 1944 to the late Reverend Rosenthal Taylor, Sr.To this union they were blessed with six children, three boys and three girls.Mother Taylor passed away March 28, 2020 in her home with her children at her bedside.
Mother Taylor was a loving and devoted mother to her children and grandchildren. She led them in the way of the Lord, teaching them the power of prayer and the duty of helping others.  Mother Taylor touched the lives of a multitude of people. She was a mother to many of her children's friends and being an affectionate neighbor to all.
Jacqueline F. Witchet her oldest daughter and Robert Taylor her youngest son preceded her in death.  She leaves to cherish her memories four children, Reverend Clayton E. Taylor (Christine) pastor of St. Paul M.B.C. Eastpoint, Ga., Rosenthal J. Taylor, Jr. (Wanda), Lorna D. Baxter (Floyd), and Barbara A. Felder (Marvin), 11 grandchildren, and 10 great grandchildren, her sister Thelma Jones of Detroit, Mi., many dear relatives and friends.
Walk through viewing:
Thursday, April 2, 2020 from 4:00 to 6:00 PM
McCoy and Harrison Funeral Home, 4918 Martin Luther King Blvd., Houston, Texas 77021
Interment:
A private family burial will be held at Houston Memorial Gardens Cemetery.
A public Celebration of Life Memorial Service will take place at a later date.
24 entries.
To Lorna & The Taylor Family I have known Mrs. Taylor (often referred to as Mom Taylor) for fifty-three years and found her to be a kindhearted loving person. Words can't explain the magnitude of her absent going forward, but she has left an array of astronomical positive memories for us to forever cherish! With our warmest condolences, may the peace that comes from the memories of love shared comfort you now and in the days ahead! Thelma & Anthony Duren Houston, Texas
Barbara & Marvin, Our deepest sympathies go out to you and your family. May God give you the peace that you seek.
My thoughts and prayers are with the family.
Barbara,wanted to let you know that you and your family are in my prayers. Cherish the memories of your mother, and may you find comfort in God.
Aunt Bessie was a great and kind Great aunt. Always had kind and uplifting words to say with her big beautiful smile. We will continue to lift up the Taylor family. Another "Family Ledgend " surely will be missed. From the Doberson Family: VEllis, Zachery, Amber, Treasure, Diamond, Chad, Juvy, Matthew, Daniel, Pricellia.
Over 50 yrs ago my sister and her husband, the Johnicans, introduced me to their neighbor, Mrs Taylor, who had a radiant smile that always made me feel she was happy to see me again. I will miss that smile when I visit but will never forget Mrs Taylor. May God Bless.
Our condolences to Barbara and Marvin, also to the entire family during this difficult time. Psalm 116:15. Thanks for sharing your mother with us.
Her LOVING LIGHT has always BRIGHTENED my life. WITH HEARTFELT SYMPATHY TO THE FAMILY.
Aunt Bessie, you always have a smile.. which make everyone around you smile and feel good.. You will be miss, but knowing you are smiling now make me feel good today.. RIP Aunt Bessie
Mrs Taylor was a great neighbor to me .My condolences go out to the family for your loss.
To Ms Lorna and Family My prayers are with you and your family. I am thinking about you and sending love. Leatrice Young
Aunt Bessie was a great and loving aunt. We will miss her dearly, and we will continue to lift up the Taylor family in prayer. Love you all. The Doberson and Lewis Family (Elveret Sr., Edna, Andrea, David, Elveret Jr., and Shae)
My condolences Ms, Lorna and family. May the sincere words and love shown to you from your dear friends help during this time. Sincerely, Katrina
Prayers & Condolences to The Taylor Family. It was a blessing to have met Mother Taylor 30yrs ago through my dear friend Barbara. She was truly a Beautiful Lady inside and out.May GOD Bless.🙏
Sending my condolences and prayers to the Taylor Family. God bless.
Aunt Bessie meant the world to all of us. She was a beautiful woman with a beautiful spirit that left a beautiful legacy. May God continue to bless and keep all of you. Luv you guys.
God shall wipe away all tears from their eyes and there shall be no more death, neither sorrow, nor crying, I neither shall there be any more pain: for the former things are passed away." Rev.21:4
Dear Lorna and Family, My heart goes out to all of you. I will forever love your mother as she was a light in my life. May the memories and the love of family give you strength in the days to come. Love! Jackie Black & Family
Prayers and Blessings to the Taylor Family with love. Tom & Bettie