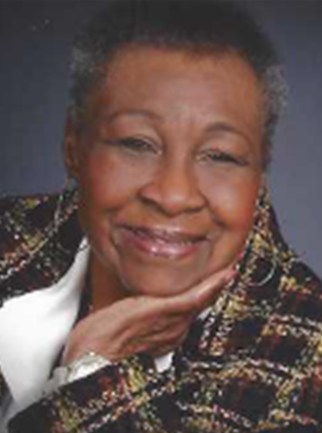 Isabella Moore
August 10, 1938 – December 26, 2020
"The gates have swung open and Isabella walked into Heaven on December 26, 2020!
Isabella was born on August 10, 1938, to Walter & Ruby Brown in Paincourtville, LA. She accepted Christ as her Lord and Savior at the age of 11.  She graduated from W. H. Reed High School and attended Riverside City College in CA, ENMU-Portales, and Houston Community College furthering her degree and studies in Early Childhood Education.
Isabella married Joseph A. Moore, Jr. November 4, 1956. She taught elementary education, and raised 3 children while honorably serving alongside Joseph in the U.S. Air Force for 23 years.  In 1981, Isabella & Joseph divorced, and she moved with her 2 daughters to Houston.  In 1983, she became a member of Brentwood Baptist church and continued to serve with their ministries.  Isabella retired in retail services working for Foley's Stores Credit department and later as a Walmart Customer Host. In 2001, Isabella moved to San Antonio to be near her daughter Kristy.  While in San Antonio, she became active with Northwest Park Baptist Church.  She lived in San Antonio for 6 years after the untimely passing of Kristy in 2003.  In 2009, she decided to move back to Houston and rejoined Brentwood Baptist Church.  Isabella also stayed active participating with her Floral Gardens Community: holding weekly Bible studies and coordinating events and holiday parties.
Isabella is preceded in death and will be reunited with her parents: Walter & Ruby, her sisters: Lois, Adelina, & Gustavia "Doll", her brother Benjamin, and her daughter Kristy.
Isabella is survived by her sister Geraldine Norris & Family of Inglewood, CA.,  brother Royal Brown & Family of Plattenville, LA. Her daughter Tracey Moore & Family in Houston TX,  her son Jonathan Moore & Family of Allen TX, and her 2nd Son Omar Hardman & Family of San Antonio TX.   Isabella has 10 grandchildren:  Casey Knowles, Chase & Zachary Woodard of Houston; Devyn Harris, Charity & Hope Hardman of San Antonio; Jourdyn, Isiah, Justice & Jeremiah Moore of Allen TX.; several cousins, nieces and nephews.
"I can do all things through Christ Jesus who gives me strength."        -Philippians 4:13 
Brentwood Baptist Church will be officiating the Celebration of Life for Isabella Brown Moore, 82, of Houston, Texas.  The Celebration will take place at McCoy & Harrison Funeral home on Wednesday, January 6, 2021. Visitation will be held in their chapel 10-11am.  The Celebration will promptly start at 11am; Interment will immediately follow at Paradise Cemetery South. For those who cannot attend, the Celebration will be streaming Live on YouTube and Facebook, links will be provided on the day of service.
In lieu of flowers and meals, due to CV-19 restrictions, the family requests any memorial contributions be sent to McCoy & Harrison Funeral Home, on behalf of Isabella B. Moore.  
Viewing:
Wednesday, January 6, 2021 at 10:00 AM
McCoy and Harrison Funeral Home, 4918 Martin Luther King Blvd., Houston, Texas 77021
Funeral Service:
Wednesday, January 6, 2021 at 11:00 AM
McCoy and Harrison Funeral Home, 4918 Martin Luther King Blvd., Houston, Texas 77021
Interment:
Wednesday, January 6, 2021 – Immediately following the funeral service
Paradise South Cemetery, 16001 Cullen Blvd., Pearland, Texas 77581
6 entries.
Auntie Belle, Sleep on and take your REST, We all LOVE you but GOD LOVED YOU BEST! Love Mark
Jonathan, bless you. Praying for you and your family.
Grandma ... I'm missing u like crazy but I know u are happy and at piece ... I will cherish our moments we had together and I thank you for blessing me 35 yrs wit u... everything u have taught me I will keep it and I luv u so much ... save me a seat and I will see u again... luv u so much
Sorry for your loss Jonathan you will see you mother again. May Gods peace and comfort surround you and your family. Rick and Brenda
Jonathan Moore and the Moore family. I am mourning with you and the loss of your mother and I am celebrating with you reaching her eternal reward. Kathy and I love you and are continuing to pray for you.