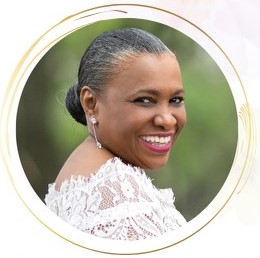 Brenda Faye White
May 22, 1962 – October 27, 2022
The year was 1962.  John F. Kennedy was the president of the United States.  Industrial robots were introduced to perform manufacturing tasks.  The Green Bay Packers won the Super Bowl.  Segregated transportation facilities ruled unconstitutional by U.S. Supreme Court.  The song "Do You Love Me" by The Contours became a major Motown hit.  On May 22nd of that year Brenda Faye Jones was born in Lafayette, Louisiana.  She was the second of five children born to Alvin and Monitta Jones.  From the day of her birth until the day of passing, Brenda Faye, known as "Fazey", was a bundle of joy as a result of her sassy, funny, quick-wit, outspoken and outgoing personality.
Growing up Brenda attended the Notre Dame Catholic Church.  When she moved to Houston she joined Abundant Life Cathedral Church under the pastoral ship of Dr. Ed and Dr. Saundra Montgomery.  Brenda was a faithful, loyal and dedicated member of ALC for over 35 years where she was a member of the dance team "Word In Motion" and choir.  She also serviced as a U-WIN Group leader and Personal Ministry Armor Bearer.
Brenda attended Catholic and public schools of Saint Martinville, eventually graduating from Saint Martinville Senior High in 1980.  Upon completion of high school Brenda briefly worked at the local Martin's Mill.  In 1985 Brenda moved to Houston, Texas briefly working in retail.  However, in 1987 she was hired as a Pre-K teacher at the Abundant Life Cathedral Church Land of the Lil People School, later renamed Pacesetters' Academy.  Brenda was a dedicated, loyal and impressive teacher who was loved by all.  But, like her parents before her, she had aspirations of owning her own childcare business.  
Brenda obtained her Director's Certificate in childcare from the Texas Health and Human Services Commission, Child Care Regulation Division.  She later went on to obtain an Associate Degree in childcare, eventually receiving her Bachelor of Arts degree in Education Administration from Almeda University.  In 1994 Brenda opened her first home-based daycare, Mini-N-Mighty Arms.  In 2001, she took a two years work-sabbatical to be a stay-at-home mom at the birth of her second son.  In 2004 Brenda went back into the workforce in the public and private sector as a teacher, curriculum coordinator, Director and consultants in various childcare organizations.  In 2006 utilizing all of her career experiences to create The Childcare Concierge, LLC, which provided services to childcare providers throughout the nation. It was a multi-faceted business that provided childcare director certification, license renewal continuing education seminars, on-site/on-line training and development, consulting and CPR education and training in conjunction with the American Red Cross. 
Brenda was known to be the life of every party. She was a devoted wife, mother, daughter, sister, niece, aunt, cousin and friend.  On Thursday, October 27,2022, with her husband by her side, Brenda departed this life.  
Brenda leaves to cherish her memories: husband, Toney White.  Two sons: Dallas S. Jones of Houston, TX and Nigel White of Prairie View, TX. Daughter-in-law: Dr. Angela Jones of Houston, TX.  Two grandchildren: Zoe Victoria and Dallas E. Jones of Houston, TX. Parents: Alvin, Sr. and Monitta Jones, of Saint Martinville, LA. One Sister: Veronica Gougisha of Bellevue, WA.  Three brothers: Alvin Jones Jr. (Yvonne) and Samson Jones (Peggy) of Saint Martinville, LA and Dr. Steven Jones of San Diego, CA.  Three nieces: Ashley Louis (Tyrone) of New Iberia, LA, Erica Jones (Floyd) of Jeanerette, LA and Amanda Gougisha of Houston, TX.  Two nephews: Andre Gougisha of Seattle, Washington and Hiram Jones of Saint Martinville, LA.  She also leaves behind a host of uncles, aunts, great nieces, nephews, cousins and beloved friends.      
Visitation:
Saturday, November 5, 2022 at 11:00 AM
The Fountain of Praise, 13950 Hillcroft Ave., Houston, Texas 77085
Funeral Service:
Saturday, November 5, 2022 at 12:00 PM
The Fountain of Praise, 13950 Hillcroft Ave., Houston, Texas 77085
Interment:
Private
3 entries.
To Toney and Family, This comes to express sincere Condolences in the loss of your wife, mother and loved one. Praying that God will comfort you and surround you with love.. Sincerely,, Jarmese and Booker Morris, IiI
To Toney and Family, This comes to express sincere Condolences in the loss of your wife, mother and loved one. Praying that God will comfort you and surround you with love.. Sincerely,, Jarmese and Booker Morris, IiI
Offering prayers and sincerest condolences to the family. May God's grace of comfort and peace be upon you. Amen