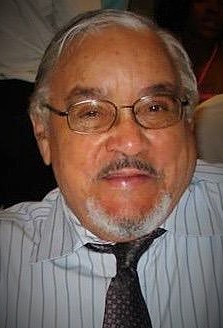 Alphonso Drummond
November 18, 1931 – January 24, 2023
Alphonso Lee Drummond was called to his heavenly home on Tuesday night, January 24, 2023.  He was born November 18, 1931 to the late Hayward Douglas Drummond and Margaret Jordan Drummond in Victoria, Virginia,
Graduating from North Carolina A&T and Air Force ROTC with a Bachelor of Science degree in 1954, Alphonso was commissioned into the United States Air Force as a 2nd Lieutenant. While in the Air Force, Alphonso met his future wife to be, Bettye Faye Hall.  They were married in 1959 and had four children.  After Alphonso departed military life. the family moved to Houston and Alphonso served as Deputy Director of the newly organized Houston Area Urban League (HAUL). Active in community activities, Alphonso, was a proud member of Omega Psi Phi Fraternity Incorporated and advocated for social equity. Alphonso was a family man who loved sports, nature, cooking, gardening, dancing and listening to jazz.
He left his full life of 91 years remaining in the midst of family activities to the end and passed away peacefully with family by his side.
A veteran, community advocate, Beloved father, grandfather, brother, uncle and former husband and dear friend, Alphonso leaves this life into Eternal Memories in the hearts and minds of those who cherished his Presence. He is survived by his baby sister Constance Drummond; his former wife Bettye Hall Drummond, his children: Alphonso Linn Jr. (Pleshette), Jay Alexander Sr. (Patricia), Tracy Ellen (Jonathon Branch), Helen Elizabeth (Steven Raymond), and grandchildren: Leeland Antoine'-Depree Stephenson, Prisoria Tempest Stephenson (Jarrod Rector), Alphonso Levi Drummond, Ariel Divine Drummond, Jay Alexander Drummond, Isaiah Jaymal Drummond, Patrice Jayñe Drummond; Erin Matisse Branch; and Gabriella Sophia Raymond; three great grandsons and a host of nieces and nephews.
In lieu of flowers, please consider a donation to Alphonso's favorite charities: the St. Jude Foundation (www.st.jude.org) and the Boys and Girls Clubs of Greater Houston (www.bgcgh.org) in his memory.
Visitation:
Saturday, February 11, 2023 at 10:00 AM
The Church Without Walls, 5725 Queenston Blvd., Houston, Texas 77084
Funeral Service:
Saturday, February 11, 2023 at 11:00 AM
The Church Without Walls, 5725 Queenston Blvd., Houston, Texas 77084
Interment:
Monday, February 13, 2023 at 11:00 AM
Houston Memorial Gardens Cemetery, 2426 Cullen Blvd., Pearland, Texas 77581